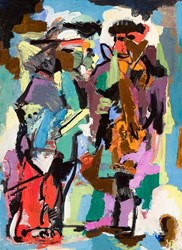 It's been an exciting experience working with the Pushkin Gallery and deconstructing Chetkov's paintings in a 3D way. I was really drawn to his landscape pieces, especially his quirky houses.
Santa Fe, NM (PRWEB) October 30, 2013
Two Santa Fe University of Art and Design(SFUAD) film students will have their digital media work on display during London's Russian Art Week in November, made possible through the university's collaboration with Santa Fe's prestigious Pushkin Gallery. The gallery, an international destination for Russian art that carries everything from avant-garde and impressionist to contemporary painting, will be a featured gallery during the London exhibition.
Students Chelsey Danielsen ('14) and Ryan Riggs ('13) were awarded the Pushkin Gallery Prize, established earlier this year with SFUAD, which awarded them each a $500 stipend and gave them the opportunity to participate in the international exhibition. They created video art installations that support the theme of the gallery's Art Week show, Reimagining Russia: The Landscape and Genre Painting of Boris Chetkov. Their tribute, which offers the students' artistic impression of the innovative work of the late Russian modernist, will be shown on a 50-inch LCD plasma screen Nov. 20–22 at London's posh Westbury Hotel. The videos will also be distributed through a mobile app developed by Russian Art Week sponsors, and will be available for download at the Apple App store for iPhone/iPad and on Google Play for Android phones and tablets.
"Chelsey and Ryan's output is beyond our wildest expectations," said Rosa Lena Reed Robinson, curator at the Pushkin Gallery. "After they spent time analyzing our collections, their passion and pursuit of different styles of art outside of their own has been incredibly impressive."
Danielsen said she was encouraged to know that a gallery located on the world-renowned Canyon Road in Santa Fe wanted to work with students who were just beginning their careers.
"It's been an exciting experience working with the Pushkin Gallery and deconstructing Chetkov's paintings in a 3D way. I was really drawn to his landscape pieces, especially his quirky houses," said Danielsen, who is known for building her own house-like installations, which have been displayed at the university's annual Outdoor Vision Fest. "Gallery owner Kenneth Pushkin described our videos as 'eye candy.' They're fun and playful. Chetkov was an artist very present in the moment, and his paintings were also abstract. I wanted to evoke these approaches in the digital medium and try to bring his paintings to life."
Riggs said he was inspired to focus on specific details within Chetkov's paintings. "My goal was to simulate the feeling of being enchanted by a painting," he said. "And as a video artist, I wanted it to move in a way that explored how I see his work, which for me is about expressing the essence of a moment. Hopefully, this video allows someone to view Chetkov's work in a new way as it drifts into the landscapes he was moved by."
The annual Pushkin Gallery Prize enables SFUAD film students to exercise their creative visions and gives them a venue for showing their video art. Next year's competition will again offer a stipend, gallery exhibition space, and/or another event exhibition.
"The Film School is tremendously honored to join in a partnership with the Pushkin Gallery and to celebrate the creative synergy that Santa Fe offers, with its history as a center for painting, combined with the cutting-edge digital artistry driven by The Film School at SFUAD," said Terry Borst, the SFUAD Film School faculty member who helped develop the Pushkin Gallery Prize along with colleague Brad Wolfley.
Reed Robinson said the Pushkin Gallery seeks to find new ways to push the boundaries of what art can be, looking at Russian avant-garde art in a contemporary context.
"The students at SFUAD are so skilled in art-making, and working with them has been like finding a new vocabulary of understanding our own collection," she added.
About Pushkin Gallery:
The Pushkin Gallery is located in Santa Fe, New Mexico, a hub of the international art market and the third-largest art market in the United States. The Pushkin Gallery opened its doors in 2000 as the first Russian Gallery in Santa Fe. Kenneth Pushkin, a prominent collector of the lifetime collections of important but lesser-known Russian artists, recognized the intrinsic and historic value of these paintings. His instincts were right, and the interest in and appreciation of Russian art within the Santa Fe art market has increased substantially. The Pushkin Gallery features the lifetime collections of the work of Vasily Golubev (1925–1985), Boris Chetkov (1926–2010), Viktor Korovin (1936–1991) and Nikolai Timkov (1912–1993), as well as individual works by other important artists. To accompany these collections, Pushkin has published four scholarly and exquisitely produced books, along with several catalogs showcasing the lives and works of these Russian masters. For more information, visit http://www.pushkingallery.com.
About The Film School at SFUAD:
The Film School at Santa Fe University of Art and Design offers a relevant, hands-on BFA curriculum that emphasizes production skills, business savvy, and storytelling across multiple film and video platforms. Films such as True Grit and Cowboys & Aliens and TV dramas such as Longmire have been shot at the university's Garson Studios, where students have the opportunity to intern on professional productions on two motion picture soundstages—at 14,000 and 7,500 square feet. The Film School also has its own 2,200-square-foot soundstage and green screen, as well as a professional set from The Sunset Limited. The Screen, a popular destination within the Garson Communications Center, shows some of the greatest works of world cinema daily for students and the public.
About Santa Fe University of Art and Design:
Santa Fe University of Art and Design is an accredited institution located in Santa Fe, New Mexico, one of the world's leading centers for art and design. The university offers degrees in arts management, contemporary music, creative writing, digital arts, graphic design, film, performing arts, photography and studio art. Faculty members are practicing artists who teach students in small groups, following a unique interdisciplinary curriculum that combines hands-on experience with core theory and prepares graduates to become well-rounded, creative, problem-solving professionals. As a Laureate International Universities Center of Excellence in Art, Architecture and Design, the university boasts an international student body and opportunities to study abroad, encouraging students to develop a global perspective on the arts. Santa Fe University of Art and Design is accredited by The Higher Learning Commission and a member of the North Central Association, http://www.ncahlc.org.