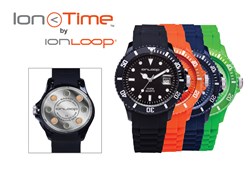 For the last 18 months we have been searching for a durable sports watch which would incorporate our proven IonLoop® technology and boy did we nail it! - Melissa Gotfredson, CEO
Dallas, TX (PRWEB) November 05, 2013
The Ion Time™ smart sports watch is the new affordable product that provides the same benefits of negative ions + magnets that people have come to rely on in all IonLoop® products. This Ion Time™ Smart Sports Watch by IonLoop® promotes health & well-being simply by wearing it each day.
Each Ion Time™ smart sports watch ($85.00) offers the patent pending technology of magnets + negative ions. The timepiece consists of eight powerful discs built into the stainless steel watchcase; four containing 1,100 gauss magnets and four discs that each provide approximately 500cc negative power. The waterproof silicone strap contains an additional 1,300cc of negative ion technology. Each watch is guaranteed certified to 10 ATM or 100 meters of water. Ion Time™ watches are stylish and colorful, available in Black, Navy, Orange and Green.
"For the last 18 months we have been searching for a durable sports watch which would incorporate our proven IonLoop® technology and boy did we nail it!" said Melissa Gotfredson, CEO. "This is our answer to the Smart Watch category… a Smart Watch for the Body".
"Our IonLoop® negative ion bracelets, wristbands and necklaces have been seen on professional athletes throughout the world… golf, tennis, cricket, track, and cycling to name just a few," said Gotfredson. "We are very proud of our product and stand by it for our athletes, our community and our partners".
IonLoop® negative ion, watches, bracelets, wristbands and necklaces are a great first-step in counteracting the harmful effects of positive ions. The negative ion properties are manufactured into the silicone bands themselves and will not lose their effectiveness over time. Most of the watches, bracelets, and necklaces also contain small but powerful magnets that offer all the benefits of magnet therapy to the user..
IonLoop's Ion Time is America's only Sport Watch that offers negative ions + magnets technology as well as America's leading negative ions + magnets accessories provider.
Introduced exclusively at http://www.ionloop.com.
Contact:
Bob Gotfredson
972-831-1900
bob(at)ionloop(dot)com
1430 Valwood Pkwy. #160
Carrollton, TX 75006
Media Contact:
Bri Crum
PLAN B PR
bri(at)planb-pr(dot)com
214.577.2965