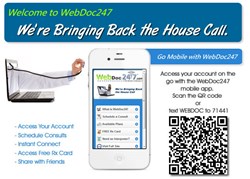 This is not insurance, it is a first line of defense to bring consumers together with doctors using technology.
New York, NY (PRWEB) October 31, 2013
Webdoc247.com continues to expand its ability to provide remote healthcare services to consumers nationwide through strategic partnerships. The web-based telemedicine platform reports membership growth with clients embracing the convenience of reaching a board certified licensed physician anywhere at anytime. Now through targeted business partnerships, enrollment has increased to those who might otherwise not have known the services were available. "Our biggest challenge is making consumers aware of the convenience and affordability of telemedicine," stated Zsolt Sapy, President & CEO, WebDoc247.com. Since being introduced Webdoc247.com has grown steadily through exposure on the Internet, but there are many more people to reach.
Insurance brokers, credit unions and employers with self-funded health plans as well as member-based organizations have embraced the service to diagnose and treat the most common conditions which in turn becomes a valuable tool to reduce unnecessary claims. "This is not insurance, it is a first line of defense to bring consumers together with doctors using technology to eliminate some of those expensive co-pays, high deductibles and unnecessary office visits," state Sapy. Glenn Szana, founder of Group Healthcare Consultants Inc., Bowling Green, Ohio, joined WebDoc247.com as a reseller. Szana has a 30-year background in the insurance industry stated, "The WebDoc247.com concept that impresses me is it is a way to help people take more control of their healthcare. Sadly, the days of Marcus Welby, MD are gone, but with WebDoc247.com patients can get more information on their health to their physician quickly so treatment can begin sooner."
Credit Union members from Telhio, Columbus, Ohio were quick to sign up after CFO, Sheila Ponder personally tested the service on her family. "As a busy, working mother with young children who always seem to get sick on the weekends, WebDoc247.com has saved me time and money. During the first year of using the service, my family and I used it for non-critical medical needs such as inhaler refills, pink eye, sore throats and earaches. I have been able to speak with a doctor, receive a diagnosis with treatment recommendations, including a prescription when needed, in under an hour in most cases." After relaying her experience members embraced it and Telhio has made the service available to its 50,000 members.
WebDoc247.com also solves many communications problems clients may have when the proximity to a provider may be too prohibitive. "It took me minutes to realize how this service would change the way medicine could be delivered to families. This service brings the house call back to families who might put off seeking medical attention because of travel or communications issues," explained Michael Hurley, Vice President & Director of Marketing, WebDoc247.com.
WebDoc247.com is working with a growing sales base of over 200 independent insurance agencies representing thousands of patients looking for healthcare coverage.