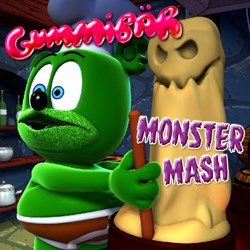 New York, NY (PRWEB) October 31, 2013
Gummibär fans world-wide are celebrating Halloween with a brand new animated video from their favorite singing and dancing gummy bear character. He has posted his wildly wonderful and wacky version of the Halloween music classic "Monster Mash" just in time for the holiday.
"I love it! The monsters are so adorable... I love it so much!!!!" commented avid fan Ashlyn Finley on the Gummibär Facebook page. Equally enthusiastic comments have been posted on YouTube with fervent fan Dora Speck commenting "Oh my gosh... this song is awesome Gummi!!!!!!!"
The video can be viewed on Gummibär's popular YouTube channel at http://www.youtube.com/gummybearintl
About Gummibär:
The first Gummibär videos were posted online in 2006 and since then the character has grown to immense popularity around the world. The official Gummibär YouTube channel now has over 1.5 billion documented views and Gummibär videos average 3 million views every day across the network. The character's songs, CDs, and DVDs have been released in over 40 different countries and in over 27 different languages.