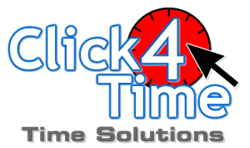 CEO, Lance Shaler, stated, "We first built an appointment booking system but soon came to the realization that businesses were looking for means to build their business. Now we see the booking system as one component of our Business Builder strategy.
Vancouver, B.C. (PRWEB) November 05, 2013
In addition to its winning history, Click4Time recently secured a $100,000 grant from the Canadian Government's Industrial Research Assistance Program (IRAP) to add a number of features to its Business Building strategy. New considerations under development include the ability to book Classes and Resources, plus funding to combine services and resources into promotional Packages.
Further to the above development, Click4Time's Business Building strategy will include stand alone systems for:

Social Marketing System – The system teaches business owners how to market their products and services online locally and globally with proven techniques that really work and without paying for any online advertising, sponsorship, adwords or classifieds. The system provides direct links to all the social websites that a business will need to reach new clients and customers.
Loyalty Rewards Program – The Loyalty system includes features to help a business gain new clients and reward existing clients each time they make a purchase, which encourages more visits, more often. The system works through a smart phone, providing a secure one-time payment method that is dedicated to a company's credit card terminal.
Referral Network Builder – Gaining new clients through personal referrals is one of the best ways to reach new clients. When someone tells you about a good experience that they had, you naturally want to enjoy that same experience. The Referral Network Builder lets a business reward friends, clients or others that brings them new business.
Easy Website Creator – Whether you just need a basic contact page or a complete website for your business, Click4Time has an easy website building system that anyone can use. The step-by-step approach allows anyone to build a website within minutes even if one has never built a website before. There are many templates to choose from, allowing a customized look and style of your business.
CEO, Lance Shaler, stated, "We first built an appointment booking system but soon came to the realization that businesses were looking for more than one way to build their business. Now we see the booking system as one component of our Business Builder strategy."
For more information on Click4Time's appointment booking Business Building system, please contact Geoff Spooner at 1-604-210-1039 ext 503 or 1-877-425-4254 ext 503 or email