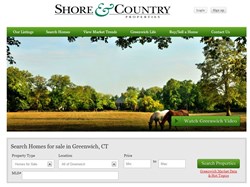 There's always that push to find something and be settled before the school year starts, and this year, with the limited inventory, buyers were still focused, even during the quietest weeks of August, noted Amy Whitlaw.
Riverside, CT (PRWEB) October 31, 2013
While July and August are traditionally slower months for real estate sales, Shore & Country Properties' third quarter report shows overall activity held steady, according to their recently released statistics.
Greenwich saw a 13 percent increase in the number of sales compared to 2012, with the heaviest volume of single-family sales in the $1,000,000 to $1,500,000 range. The $3,000,000 to $5,000,000 range also saw an 18 percent jump, but sales over $10,000,000 were down 58 percent. Even more scarce, sales under $400,000 dropped 75 percent with only two units sold, compared to eight in 2012. While the average sale price is down seven percent to $2,105,358, the median price moved up two percent to $1,625,000. The number of condominium sales increased 62 percent in terms of units, but saw the average sale price fall five percent.
"There's always that push to find something and be settled before the school year starts, and this year, with the limited inventory, buyers were still focused, even during the quietest weeks of August," noted Amy Whitlaw, a sales associate at Shore & Country Properties. "In the past, discouraged buyers would give up looking and sign on for another year in their rentals, but between the competitive rates and improved consumer confidence, many chose to keep searching."
Greenwich MLS data shows that between July and September, 194 single-family sales closed. A further look at the data shows that in September 2013, there were 49 homes under contract, where in September 2012, only 29 had been reported.
The results of the data can be found at http://shoreandcountryproperties.com/greenwich_market_data.html.
One of the most interesting things about the Greenwich real estate market is the variety of properties listed. The highest sale during the third quarter was an extensively renovated English manor located on Round Hill Road that found a buyer at an even $15,000,000. At the other end of the broad market, a two-bedroom, one-bath cottage on Cary Road in Riverside closed for $425,000.
Looking ahead, the real estate market may not see the year-end flurry of last December, as there was a rush to close due to expiring tax laws. More likely, the market will see the usual holiday slowdown and predict a bustling January and exciting spring of 2014.
About the company:
Shore and Country Properties was originally started by Russell Pruner in 1989 as Russell Pruner and Associates. His vision for a company comprised of the town's best full-time real estate professionals. Nancy Healy joined the company as a partner in 1996. Since starting her career in real estate in 1987, Nancy has been one of the town's busiest and well-respected realtors. Recently her peers voted her one of America's Most Preferred Realtors. The year 2000 brought the addition of two more partners, Joan Epand and Ken Yorke. Each added yet more talent to the group, from Joan's marketing expertise to Ken's sharp accounting skills and operational abilities.
Both Russ and Nancy have served multiple time as President of the Greenwich Association of Realtors and the Multiple Listing Service and give their time to work on other committees. As a result they have a unique understanding of what it takes to run a successful real estate firm. And by carefully selecting only agents who represent the best of Greenwich, Russell Pruner and Associates quickly grew to become the leading independent real estate firm, serving all 50 square miles of Greenwich and lower Fairfield County.
"We handpick respected agents who demonstrate the integrity, expertise and personal touch that clients deserve when buying or selling their most valuable assets."
In 2003, Russell Pruner and Associates became Shore and Country Properties to let consumers know they service every neighborhood from the back country to the shore line. For the past 12 years, Shore and Country Properties has been the number-one real estate company in Greenwich by selling their listings in the fewest number of days (81) and with the highest original list price to sales price at 93.75 percent. They continue to lead the Greenwich market in transactions and dollar volume while providing unparalleled service to their clients. It is their hope that the new website will draw visitors from around the globe to learn about this very dynamic company and this very special town.