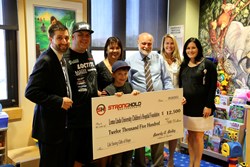 Loma Linda, Calif. (PRWEB) October 31, 2013
Members of the Stronghold Motorsports Team visited Loma Linda University Children's Hospital recently (Sept. 25) to deliver a check for $12,500 to help pay for treatment of children receiving charity care.
"The Stronghold Motorsports Team is driven to excellence and success each and every day; we always know that our next victory is right around the curve," said Beverly Bailey, who founded the Riverside, Calif.-based team in 2009 with her husband, Scott Bailey. "With this same determination and purpose, we are extremely proud to support Loma Linda University Children's Hospital with our contribution of $12,500 to help fill gaps in healthcare coverage for children in our community," she said.
In the photo, Stronghold Motorsports Team members and officers of Loma Linda University Health display the check the off-road racing organization donated to Loma Linda University Children's Hospital. (From left): Eric Ewing, senior development officer, LLUH; Brandon Bailey, driver, Stronghold; Madix Bailey, driver-in-training, Stronghold; Beverly Bailey, co-founder and driver, Stronghold; Dr. Richard H. Hart, president, LLUH; Jen Cruikshank, chief patient care officer, LLUCH; and Jill Payne, executive director, LLUCH Foundation.
# # #
About Loma Linda University Children's Hospital - LLUCH
Loma Linda University Children's Hospital is the only dedicated pediatric hospital in the vast geographic region of San Bernardino, Riverside, Inyo and Mono counties. With 348 beds dedicated just for kids, one of the largest Neonatal Intensive Care Units (NICU) in the country, and more than 100,000 children who come each year, LLUCH is a major pediatric teaching facility, known worldwide as the pioneer of neonatal heart transplantation. LLUCH is part of Loma Linda University Health (LLUH), the umbrella organization encompassing Loma Linda University's eight professional schools, Loma Linda University Medical Center's six hospitals, and more than 900 faculty physicians located across the Inland Empire in Southern California. A Seventh-day Adventist organization, LLUH is a faith-based health system with a mission "to continue the teaching and healing ministry of Jesus Christ."