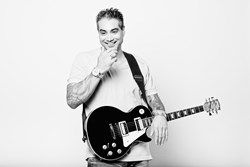 Fort Lauderdale, FL (PRWEB) November 26, 2013
No matter where you are located, Fort Lauderdale-based musician Dyce Kimura can provide you with guitar lessons. Kimura offers Skype guitar lessons to students across the globe. Furthermore, for students who mention this article and sign up during the 4th week of November, Kimura is offering these guitar lessons via Skype at 15% off. Kimura offers these discounts to encourage new students to sign up, try something new, and develop their passion for music.
While he initially began providing students with guitar lessons in Florida, Kimura chose to branch out to Skype not only to expand his offerings, but also to learn more about the way that people in different cultures play the guitar and relate to music. In regard to this global experience, Kimura states, "It is truly fascinating to interact with students from a wide range of places and cultures. While we all share a common love for the guitar, everyone is unique in terms of the songs they want to play and how they personally relate to them."
With 27 years of experience playing the guitar, Kimura offers his students both passion and expertise. As a long-time player, Kimura has been able to develop a method for his guitar lessons that allows students to learn at their own pace and with their own personal goals in mind. After providing each student with an evaluation of his or her current playing level, Kimura customizes the set of lessons toward that student's level, skills, practicing regimen, goals, and interests. Kimura's lessons cover all aspects of the guitar, including sheet music, chords, scales, tabs, ear training, and chord charts and grids.
Amongst his students, Kimura's Skype guitar lessons as well as his Skype bass lessons have received rave reviews. Dyce Kimura's students appreciate the customization of his lessons toward their individual needs, which makes learning the guitar more fun and allows students to take pride in their personal successes. One student commented, "I appreciate Dyce's willingness to take it slowly and make sure that I have the basics down before moving on to the harder stuff. It really helps me learn and build a foundation for playing."
For new students looking to sign up with Dyce Kimura, simply mention this article to receive 15% off Skype guitar lessons during the 4th week in November. Kimura offers Skype lessons to students across the globe at any level, whether they have never touched a guitar before or are seasoned players.
Dyce Kimura is a musician based in Fort Lauderdale, FL who offers guitar, bass, and other musical lessons via Skype.
Contact: 786-457-3687
dyce(at)dycekimura(dot)com
http://www.skypeguitarlessonsonline.com/