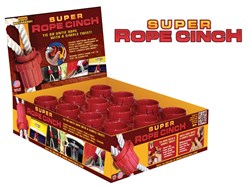 This is the easiest way to secure anything with rope, hands down.
Nashville, Tenn (PRWEB) October 31, 2013
A closer look at the reasons behind a sales increase of 900% reveals some fundamental principles of successfully launching and selling a product, one of which is that product's ability to complete its earmarked task to the letter, solving a real problem in the process.
"This is the easiest way to secure anything with rope, hands down," according to Just Right Products LLC president, Tim Bourke.
While the Super Rope Cinch itself is rather simple in appearance, its use in combination with a rope comes in handy in that it can support more than enough of vertical or horizontal pressure for daily usage. This takes the headache out of completing tasks such as securing tents, boats, luggage, trailers and practically anything that needs to be tied with a rope.
The Super Rope Cinch is particularly popular among DIY'ers, farmers, construction workers, homemakers and even professionals, such as contractors and movers, with the 900% increase in sales stemming from the realization of these end-users that all tasks associated with rope-tying can be completed much quicker, safer and easier. The Super Rope Cinch secures rope using only a simple twist.
With more and more consumers discovering the sheer usefulness of the Super Rope Cinch, every indication is that the sales will continue past the 900% increase currently on record.
About the Super Rope Cinch
Created by Just Right Products LLC, the Super Rope Cinch secures rope using a simple twist. The rope is released by simply pressing a release button, offering seamless handling to complement the horizontal/vertical load pressure-holding capabilities that come with this rope-fastening device.
Learn more about the Super Rope Cinch rope fastening device by visiting http://www.SuperRopeCinch.com, or http://www.JustRightProductsLLC.com.