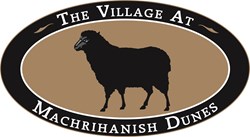 Argyll, Scotland (PRWEB) October 31, 2013
Congratulations to the four finalists who participated in the Mach Dunes Million shootout on Saturday, 26 October. The finalists were randomly chosen from individuals who registered and played an 18-hole round at Machrihanish Dunes Golf Club between July 15 – October 16, 2013. The contest, which is believed to have offered the largest prize ever for a hole in one by an amateur golfer, took place on the picturesque 14th hole at Machrihanish Dunes, a hole considered to be one of the most beautiful par-3 holes in the UK. Each finalist had one shot to attempt an ace on the 139-yard hole. A successful and verified hole-in-one would have earned any of the golfers a cool $1,000,000 USD.
The finalists were hosted at the four-star Ugadale Hotel. All enjoyed a hearty breakfast and some practice time at the Machrihanish Dunes practice area before making their way to the 14th hole for their $1 million USD swing. Family members, guests, staff and witnesses looked on as each of the four stepped up to the tee. John Paterson, the last finalist chosen, hit the green, but was approximately six yards short of a hole in one. The other contestants went wide or short, also missing their opportunity for $1 million USD.
"The first shot came right at the pin stopping only a few feet short, creating real drama for all involved, and increased the tension and excitement of the remaining participants and the verifiers," said Jimmy Kidd, witness for Machrihanish Dunes and golf turf expert.
"All of the Machrihanish Dunes team around the green and tee wished for a hole in one, but this time around we had to console ourselves with a nice glass of excellent champagne on the beautiful par-3 green with Machrihanish Bay and The Ugadale Hotel in the background."
A celebration and champagne toast were held at the golf house after the shootout, where the four finalists were presented with one of Machrihanish Dunes' famous black sheep head covers to commemorate their day. Luckily, the four finalists were all back at the Ugadale when the course was cleared few hours later due to torrential rains.
Following please find statistics and quotes from each player upon being selected as a finalist.
________________________________________
The Mach Dunes First Finalist
Who: Mark Love, a 46 year old systems manager
From Where: Hails from Livingston
Handicap: 14
If I Win: "I will definitely reduce my working hours."
First Words When Contacted: "Is this for real?!"
Home Course: Deer Park, Livingston
_______________________________________________________________________________
Finalist Number Two
Who: Fiona Larnach, 42, finance manager
From Where: Hails from Edinburgh
Handicap: 9
If I win: "Probably go on several nice holidays and buy a new car."
Have you ever made a hole in one before? : "NO!"
Who will be cheering you on?: My husband Ernie.
Home Course: Castle Park
________________________________________
Finalist Number Three
Who: Gary Quinn, 57, strategic relationship manager
From Where: Loch Lomond, Scotland
Handicap: 16.
If I Win: "I will secure my two sons, daughter and my granddaughter's future. Take my wife a fantastic holiday and spoil myself a bit by visiting the US Masters in Augusta."
Who Will Be Cheering You On? My wife and kids. They wouldn't miss this one!
Have You Ever Hit a Hole in One Before? Once, 25 years ago with an 8 iron - it was a winter green and the hole was the size of a bucket though!
Home Course: Carrick
________________________________________
Finalist Number Four
Who: John Paterson, 45, employee of CalMac Ferries
From Where?: Carradale
Hanicap: 9
If I Win: "I will take my family to America, where they can indulge in some retail therapy while I play some of the world famous golf courses."
Have You Ever Hit a Hole in One Before? No, but hopefully that will change on Saturday!
Home Course: Carradale
________________________________________
For more information on the Mach Dunes Million contact: Cindy Lawrence, clawrence@southworthdevelopment.com or 617-630-4906.
For more information on the Mach Dunes Million, please visit http://www.machdunesmillion.com
About The Village at Machrihanish Dunes
The vision of the Village at Machrihanish Dunes was to create a world-class seaside resort, including a U.K. Top-100 links golf course, four-star accommodations, dining and other facilities in one of Scotland's most beautiful regions. The course was the first 18-hole course in the U.K. to earn certification from the Golf Environmental Organization, and was named the most ecologically-friendly course in the world by ABTA Golf Magazine in 2012. The course was designed by David McLay-Kidd, who as a child played in the same dunes where he ultimately laid out the Machrihanish Dunes golf course. The course opened in 2009 on a Site of Special Scientific Interest (SSSI), the first course ever to be built on such a site and also the first to be built on the west coast of Scotland in over 100 years.
###
Southworth Development LLC, through its affiliated companies, is the primary owner, developer and manager of Machrihanish Dunes Golf Club and luxury accommodations in both Machrihanish and Campbeltown, Scotland.
###
Editors Note:
Grants to the restoration of the Ugadale Hotel in Machrihanish and The Royal Hotel in Campbeltown in cooperation with: Highland and Islands Enterprise (HIE) and the European Regional Development Fund (ERDF) funding support; the Campbeltown Town Centre Regeneration Project (Argyll & Bute Council), a special grant to the Royal Hotel by the Scottish Ministers, through Historic Scotland under the Historic Environment Regeneration Fund.