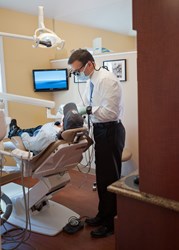 I enjoy learning about new tools and procedures that can help improve the patient's overall experience.
Fairfield, CT (PRWEB) October 31, 2013
Salvatore Pizzino, D.D.S., a Fairfield CT dentist, is utilizing the latest technology in his practice to improve his patients' overall experience. As a member of the AGD New England Master Track Program, Dr. Pizzino strives to stay on the cutting edge of dental technology by researching new products and treatments. The Fairfield CT Dentist office is excited to be using the Piezotome product for basic extractions to more advanced surgical procedures. This new product allows Southport Family Dental to better server their patients through reduced procedure times while minimizing discomfort to patients.
The Piezotome is a dental instrument that is used in wisdom teeth removal, pre-implants, or any other dental or implant surgical procedure. The Piezotome technology is safer, less painful, and causes very little bleeding. Dr. Pizzino uses the Piezotome to perform incisions with a precise and cleaner cut, therefore reducing the healing time. "I enjoy using the Piezotome because it reduces the post-operative pain almost to nothing," Dr. Pizzino said. "The less pain for my patients, the better!"
The Piezotome technology is safer, less painful, and causes very little bleeding. The main goal is to remove the bone without damaging the surrounding soft tissues or gums, leaving them basically untouched and the patient in minimal pain.
Dr. Pizzino and Southport Family Dental are dedicated to providing the highest quality service to their patient. As a member of the American Academy of Cosmetic Dentistry, Dr. Pizzino is passionate about the long-term health of his patients' teeth and mouths by offering the latest technology and dental treatments.
About Southport Family Dental
Southport Family Dental is a Fairfield County practice dedicated to making its patients feel comfortable while providing them with quality dental services in a relaxed, modern and caring environment. Dr. Salvatore Pizzino and his associates are passionate about giving patients new reasons to smile by focusing on the long-term health of their teeth and mouths and the aesthetic beauty of their smiles. From routine exams, cleanings and fillings to Invisalign, restorative work and cosmetic services, the entire staff at Southport Family Dental aims to exceed the expectations of their patients at every visit by taking the time to listen to their needs and never compromising on quality.