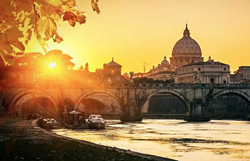 The best time to travel to Europe is during Thanksgiving because business class fares are almost the same price as coach.
San Bruno, CA (PRWEB) October 31, 2013
Thanksgiving is not only the busiest travel holiday of the year, it can also take its toll. Avoid Thanksgiving stress by flying to Europe in business class for up to half the cost of a regular priced ticket. So while the rest of America is watching football at home, why not take in a game of European football (soccer) at one of Les Grands Stades D'europe. Go on a shopping spree at the holiday markets in Germany, or take a stroll through the "City of Lights" in Paris. All this and more await you by clicking on: http://www.iflybusiness.com to check out our sample fares or calling 1-800-807-9834 to speak to an agent.
Keep in mind that transcontinental flights are long so iFlyBusiness offers you business class perks such as priority check-in and boarding, faster deplaning, increased seat reclining and greater leg room, all at a discounted rate. Benefits also include bypassing crowded terminals and access to full-service business class lounges which exclusive comfortable seating, wireless internet, free food and drinks, private bathrooms and showers (at select lounges). Greg Pavlovsky, CEO of IFlybusiness states, "the best time to travel to Europe is during Thanksgiving because business class fares are literally almost the same price as coach." He continues, "Let's face it, being with family can be stressful so why not change plans and take advantage of these awesome deals to Europe?" Eligible departure dates are between November 24 - 29 with a three-day minimum and ten-day maximum stay. But don't delay because discounted tickets to Europe must be purchased 21 days in advance of travel.
About IFlybusiness:
IFlyBusiness offers executive travelers the luxury of upgraded flight amenities without the inflated cost. How? IFlyBusiness has contracts with most major airlines to ensure heavily discounted airfares for first and business class passengers. Whether you're booking travel round trip, one way or around the world, we have the most up-to-date access to changing airfares, making discounted business and first class tickets available for you first. Maximum flexibility allows you to be spontaneous, because we know plans change. We make sure you still get the best rates, even when you alter your itinerary on the fly.