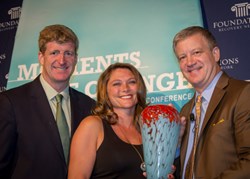 Angie Garrett is a Hero in Recovery because of her seemingly endless supply of energy and encouragement for those in desperate need of both.
Nashville, Tennessee (PRWEB) October 31, 2013
Heroes in Recovery (HIR) is proud to announce the recipient of its biannual Heroes in Recovery Award at Foundations Recovery Network's recent Moments of Change conference in West Palm Beach, Florida. Former Congressman Patrick Kennedy and Rob Waggener, CEO of Foundations Recovery Network, presented the one-of-a-kind award to Angie Garrett who exemplifies the ideals of the Heroes in Recovery movement.
Angie Garrett was recognized for her tireless and inspiring work as an Interventionist and Sober Transport for Intervention 180. She has taken her own story of overcoming substance abuse and uses her experiences to serve as an inspiration and motivational force for others. Prior to joining Intervention 180, Angie served at both The Oxford Center and Bridge to Recovery where she carved out a niche for herself in working specifically with women addicted to methamphetamine and a background of abuse and trauma. Her natural gift for empathy and motivation make her ideally suited for this challenging work. When asked why Angie Garrett is a Hero in Recovery, numerous people cited her seemingly endless supply of energy and encouragement for those in desperate need of both. To read Angie's inspiring story, visit the Heroes in Recovery website.
Heroes in Recovery is a grassroots movement intended to remove the social stigma associated with people who are in recovery, to recognize the heroic effort it takes to overcome obstacles in seeking help, and to celebrate the act of preventing the past from kidnapping the future. According to the National Survey on Drug Use and Health, around 22 million people need substance abuse treatment each year and do not receive it, and according to the Substance Abuse and Mental Health Services Administration, 10 million Americans do not receive needed mental health care. The Heroes in Recovery movement, started by Foundations Recovery Network (FRN), is actively working to break the stigma of addiction and mental illness by educating the community at large and celebrating those on the journey of recovery. They also encourage everyday heroes to share their stories at HeroesInRecovery.com, knowing that each person who does so will encourage others on the road to recovery who may be feeling isolated or alone.
About Foundations Recovery Network:
Headquartered in Nashville, TN, Foundations Recovery Network is one of the premier organizations for treating those with co-occurring addiction and mental health disorders. FRN's treatment facilities include Michael's House in Palm Springs, CA; The Canyon in Malibu, CA; La Paloma in Memphis, TN; and full-service outpatient treatment centers in Atlanta, GA; Santa Monica, CA; Memphis, TN; San Francisco, CA; and Palm Springs, CA.
All FRN facilities utilize an integrated treatment approach, focusing on a Dual Diagnosis model for lasting recovery. http://www.foundationsrecoverynetwork.com
For more information, visit http://www.HeroesinRecovery.com.