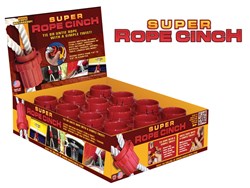 This is an amazing thing John Ratzenberger is doing for all products made in the USA.
Nashville, Tenn (PRWEB) November 04, 2013
Best known by millions as "Cliff the Mailman" on the popular TV comedy series Cheers, host John Ratzenberger is creating a new TV show in 2014 titled American Made that will feature the products and inventors of various American made devices. The Super Rope Cinch was selected to be one of the first products featured on the show, and has since become a sponsor for the show by donating Super Rope Cinch's to potential investors of the upcoming series.
"This is an amazing thing John is doing for all inventors and products made in the USA. Just Right Products is proud to be a part of his efforts, and was glad to contribute product," according to Tim Bourke, inventor of the Super Rope Cinch.
Currently, American Made is in pre-production, and has done well to include interest from many large American-based sponsors such as PEZ, ProTool and Tervis, along with Just Right Products' Super Rope Cinch. The show is expected to launch in 2014, and will feature multiple products and their inventor's in each televised episode.
About the Super Rope Cinch
Created by Just Right Products LLC, the Super Rope Cinch secures rope using a simple twist. The rope is released with the simple press of a release button, offering simple rope fastening assistance to anyone tying or untying anything with rope. The Super Rope Cinch launched in 2011, and has since joined the distribution channels of Home Depot, Do it Best, Orgill, and many other large retail distributing companies and retailers.
Learn more about the Super Rope Cinch rope fastening device by visiting http://www.SuperRopeCinch.com, or http://www.JustRightProductsLLC.com.