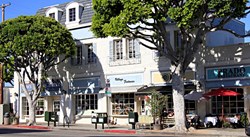 Los Angeles, CA (PRWEB) October 31, 2013
MANNFOLK PR, selected among the country's most dependable public relations agencies by the fashion industry's most respected publication WWD, is launching a multi-brand publicity and promotions showroom to highlight the best pieces from its roster of lifestyle, beauty and fashion clients. Located in the heart of Hollywood across Paramount Studios, the showroom sets the stage for industry professionals – from editors and stylists to reporters, producers, bloggers and celebrities and their designated representatives – to preview the latest collections, pull samples or discover potential collaborations for their features or red carpet appearances.
Although sized as a boutique firm that provides a more personalized handling of its clients, MANNFOLK PR is opening the showroom as an addition to its full range of public relations services that already includes traditional multi-media outreach, marketing strategy development, social media support, and fashion show production. The showroom serves to establish an equally strong celebrity presence as an editorial one for its clients.
As media evolves through emerging web-based platforms and across varying project opportunities, Mannfolk PR is determined to access different channels to provide their clients with premium brand exposure. The agency currently has offices in both Los Angeles and New York that cover extensive contacts throughout all the national and regional publications, websites, and fashion and entertainment stylists and costumers for major celebrities and television shows. With over ten years of industry experience and success stories, MANNFOLK PR continues to forge ahead with innovative ways to promote brand development and foster valuable media exposure.
For more information, please contact Dorothy(at)mannfolkpr(dot)com. http://www.mannfolkpr.com