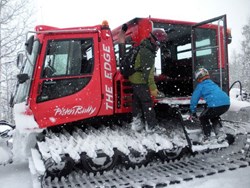 The cool kids aren't riding chair lifts anymore.
(PRWEB) October 31, 2013
As soon as the first leaf falls, every powder hound on the planet starts planning for an epic winter.
This year it's time to think big, really big. These Bucket List ski adventure ideas will make hitting fresh powder on your home mountain look like child's play. Warren Miller will beg to make movies about these epic adventures. Riding the chair lift and staying in bounds is so last year.
This is a powder hound's winter to-do list:
Arctic Circle Ski Cruise in Norway
Cruise to the edge of the ice in summer when daylight never ends. Ski all day and all night just 600 miles south of the North Pole. Ice Axe Adventures offers the ultimate luxury ski adventures with a cruise to Norway's Svalbard Archipelago. Days are spent hiking to icy pinnacles and descending in to virgin snow, "nights" are spent relaxing onboard the ship. The word "arctic" comes from the Greek "arktos", which means bear and the Svalbard archipelago has one of the largest polar bear populations in the world. With more than 2,000 of these marine mammals, those white puffs you spot are more likely bears than overdressed ski bunnies.
Heli-ski at Four Seasons Jackson Hole. For those who've never dropped from a helicopter in to deep powder before, the Four Seasons is a great place to start, the spa will soothe away any damage from the day. Skiers and boarders can book a back country guide to lead them to pristine snow, or just soar above it all on a heli-adventure tailored to their skill level
:
Make a mind-blowing Warren Miller type ski video
What skier doesn't get psyched watching Warren Miller flicks? It all starts with a new Go Pro Hero 3 and some mad editing skills.
Summer Ski at Puma Lodge in Chile
Opened in 2011, the Puma Lodge five star resort claims the title of "Powder Capital of the Andes". This ultimate ski getaway is only a 90-minute drive south of Santiago and is the biggest private heli-ski center in the world. The area surrounding Puma Lodge is reserved for heli-skiing by Puma Lodge Guests only. Now that is exclusive.
Snow Cat Ski at Three Forks Ranch
Along the lines of, the cool kids don't ride chair lifts; Three Forks offers what the Wall Street Journal calls "Pampered Private Access". This luxury resort just north of Steamboat in Colorado spans 20,000 acres and features a real working cattle ranch. Those looking for an exclusive ski experience can lay fresh tracks on 20 private cut runs that can be groomed upon request. The Vacation Gals reviewed not only the skiing but the gourmet food and spa.
Dolomites Gourmet Ski Holiday
Ski the Italian slopes by day: drink local Italian wine by night. The Italia Outdoors Food & Wine 2014 itinerary is limited to 10 people and features intimate ski and dining experiences. The trip is billed as exploring the "authentic Italy, both on the slopes and off". Since Trentino Alto-Adige boasts more Michelin star restaurants than any other region in Italy, the apres' ski snacks are likely to be a foodie's dream.
Schuss Down the Pistes in Chamonix, Verbier and St. Anton
Rumor has it that there are co-ed clothing optional saunas in St. Anton. Mrs. O Around the World checked out the newly re-opened Chalet de Flore in Verbier. James Blunt is a resident, guests can even ride the James Blunt chair lift. The food and wine scene in Verbier is legendary and no real ski bucket list would be complete without some raclette and swiss wine post skiing.
Follow your Olympic Dreams on the Road to Sochi in Park City
Deer Valley will be hosting the FIS Freestyle World Cup Jan 8-11, 2014 in Park City, Utah.
The FIS Freestyle World Cup is the world's most prestigious freeski athletic competition outside of the Olympics and will include aerials, moguls and dual moguls competitions at Deer Valley Resort. Catch the worlds top athletes as they train and qualify for the 2014 Winter Olympics. -