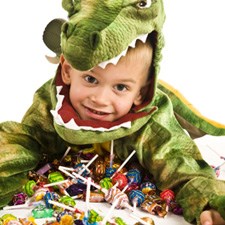 Tampa, FL (PRWEB) October 31, 2013
For most kids, Halloween is a mad dash from house to house to collect as much candy as possible! How do you keep them from gorging on sugar and creating cavities? Here are a few simple tips from a mom who's also a dentist:
1. Establish the candy rules. Before you even start trick-or-treating, set the guidelines for the amount of candy each child is allowed to eat that night.
2. Sort the candy. Place anything that is sticky, chewy or sour into one pile – and then throw it out. Dental cavities have a proven cause-and-effect relationship with extended exposure to sugary or sour substances. Oral bacteria convert these substances to acid that can lead to cavities.
3. Store candy up high. Keep the candy out of reach of children and pass it out as a special treat in school lunches, after dinner, and as a reward for good behavior.
4. Leave candy wrappers in a visible area so that you remember how many of these ghoulish confections you and your family have eaten.
5. Talk to your kids about oral health. This is a great time to reinforce good habits. Ideally, your child should brush and floss soon after eating candy. If that's not possible, then wash away some of the sugar by drinking a glass of water. Best of all, make an appointment for a smile check-up now while you're thinking about it!
Enjoy the sweets in moderation and have fun this Halloween!
# # #
Cindy Roark, DMD, is a member of the American Dental Association, Florida Dental Association and the Academy of General Dentistry. As the Chief Clinical Director of Coast Dental's 180 practices, she coordinates the deployment of key patient care initiatives including digital radiography, dental laser therapy, oral cancer screening technology, bone grafting and the protocol for the treatment of periodontal disease.
About Coast Dental
Coast Dental, P.A., with its professional associations, is one of the largest providers of general and specialty care in the United States with 180 affiliated practices operating as Coast Dental, SmileCare and Nevada Dental Associates in Florida, Georgia, California, Nevada and Texas. Coast Dental Services, Inc. is a privately-held practice management company that provides comprehensive, non-clinical business and administrative services to its affiliated practices. The company is headquartered in Tampa, Florida. For more information or to find a location, visit CoastDental.com or call 1-800-32-SMILE.