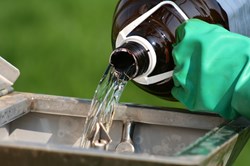 "We want to take the opportunity to extend a helping hand to companies that may be struggling to meet this critical training deadline"
Tempe-Ariz. (PRWEB) October 31, 2013
Tempe based Safety Services Company is offering all employers access to a series of complimentary downloadable meetings designed to fulfill the December, 1 2013 Globally Harmonized System (GHS) of Chemical Classification training requirement.
"We want to take the opportunity to extend a helping hand to companies that may be struggling to meet this critical training deadline," said Safety Services Company spokesman Michael Rich.
The implementation of the GHS into the Occupational Health and Safety Administration's existing Hazard Communication Standard (HCS) aligns the U.S. system with one used across the world.
Key changes to the implementation include replacing existing Material Safety Data Sheets (MSDS) with Safety Data Sheets (SDS), introducing new pictograms and an updated style of chemical labeling.
"OSHA's 1983 Hazard Communication Standard gave workers the right to know. As one participant expressed during our rulemaking process, this update will give them the right to understand, as well," said Assistant Secretary of Labor for Occupational Safety and Health Dr. David Michaels.
The Implementation of the GHS into the existing Hazardous Communication standard is expected to prevent an estimated 585 injuries and illnesses annually. It will reduce trade barriers and result in estimated annualized benefits in productivity improvements for American businesses that regularly handle, store and use hazardous chemicals, as well as cost savings of $32.2 million for American businesses that periodically update safety data sheets and labels for chemicals covered under the standard.
As part of the implementation of the new standard, OSHA has adopted a staggered implementation schedule that calls for all employees that use, handle or store hazardous chemicals to be trained on the concepts of GHS by December 1, 2013.
"This training deadline applies to the majority of the U.S. workplace," said Rich. "Hazardous chemicals can be anything from dish detergent in a restaurant to acid in a manufacturing plant."
Other upcoming GHS deadlines include:
June 1, 2015
Chemical manufacturers, importers, distributors- Must comply with all the requirements of the GHS rule, except GHS labeling requirements.
December 1, 2015
Chemical manufacturers, importers, distributors- All shipments of chemical containers must include the GHS-compliant label (signal word, pictogram, hazard statement, and precautionary statement).
June 1, 2016
All employers that use, handle, store chemicals- Update alternative workplace labeling and hazard communication program as necessary, and provide additional employee training for newly identified physical or health hazards.
To receive the free GHS training materials call 877-201-8923 or e-mail mrich@safetyservicescompany.com.
ABOUT SAFETY SERVICES COMPANY
Safety Services Company is North America's leading provider of safety and compliance training products and services. Safety Services Company offers custom solutions such as safety manuals, training kits, online training portals, safety meeting subscriptions, labor law posters, and contractor pre-qualification compliance services. These offerings enhance the safety of our customers' workplaces and wellbeing of their employees and are the cornerstone of our organization. Through diligent research, in-depth customer touchpoints, and dedication of the company's team, our goal is to deliver our customers products and services that exceed their safety and compliance needs, expectations, and goals.
Since its formation in 2003, Safety Services Company witnessed revenue growth from $400,000 to more than $29 million a year in 2012. The company operates offices in both Yuma and Tempe, Ariz., employing nearly 500 people.