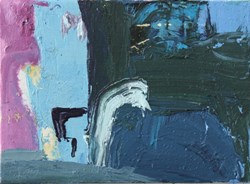 Having a more comprehensive curated art collection with original works adds to our homelike atmosphere. It feels even more like a sophisticated downtown residence. - Emily Kuch, general manager of The Independent Hotel
Philadelphia, PA (PRWEB) October 31, 2013
A bit of color and pizazz has splashed the walls of The Independent Hotel, a downtown Philadelphia boutique hotel. The Independent has partnered with Temple University's renowned Tyler School of Art to present a rotating art program, and the inaugural opening will be held on Tuesday, November 12, 2013.
"Having a more comprehensive curated art collection with original works adds to our homelike atmosphere. It feels even more like a sophisticated downtown residence," said Emily Kuch, general manager of The Independent Hotel. "It just made sense to partner with such a renowned art school, located only a little farther north of us on 13th Street. And we are thrilled to partner with Temple University, a fantastic local university that so many of our associates have attended."
The inaugural opening includes 14 pieces of original artwork, 10 paintings and 4 drawings, all of which are available for sale. The premiere exhibit features artwork by Tiffany Livingston, Kaitlin McDonough, Jonathan Ryan, and Seneca Weintraut. All four artists are graduate students at Tyler, an award-winning art school with a preeminent and highly selective drawing and painting program.
The Independent Hotel is hosting an opening on November 12 from 6:00 p.m. to 7:30 p.m. at 1234 Locust Street. Guests will enjoy a wine and cheese reception while experiencing the art, located mostly on the 2nd floor in the hotel lobby. The reception is open to the public, but RSVP is required. RSVPs should be sent to: events(at)independentcollection(dot)com by November 9.
About The Independent Hotel:
The Independent Hotel is a stylish 24-room Philadelphia boutique hotel located in the heart of Midtown Village — arguably the city's current cultural epicenter. The Independent Hotel offers guests a charming and intimate atmosphere, seamlessly intuitive service, well-appointed rooms and the perfect address from which to explore the city. Complimentary continental breakfast is delivered to your door and the hotel offers complimentary Wi-Fi throughout.
About The Independent Collection:
The Independent Collection is a growing collection of smaller, boutique lifestyle hotels located in truly unique neighborhoods of gateway cities across the US. Hotels of the Independent Collection are created for the independently minded traveler.
About HHM:
HHM, formerly known as Hersha Hospitality Management, operates 130 hotels across the United States. It provides turnkey hotel management, asset management and receivership for properties with leading brand affiliations through Marriott, Hilton, Hyatt, Starwood, and Intercontinental Hotel Group. HHM also operates 25 independent hotels ranging from The Rittenhouse Hotel, a AAA Five Diamond property in Philadelphia, to the Larkspur Landing hotels, all-suite extended stay properties in Northern California and the Pacific Northwest. Its highly experienced team is accustomed to serving as a fiduciary to publicly traded companies, joint ventures, institutional real estate owners and private investors. Additional information on HHM can be found at hhmhospitality.com.
About Temple University's Tyler School of Art:
Since 1935, Tyler School of Art has offered students the combination of a world-renowned faculty and the resources of a major university. Tyler has grown from a small art school in Elkins Park, PA to encompass a wide range of programs in the study of art, design, art history, art education, and architecture all now located on the Main Campus of Temple University. In each program, students work in small learning communities, while also benefiting from the facilities, curriculum, and activities of Temple University. The Department of Painting, Drawing and Sculpture emphasizes art making as an ongoing discipline rooted in a rich history within a globally influenced, culturally diverse and technologically advanced world.