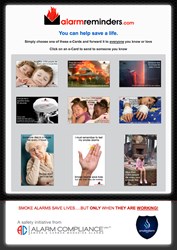 65% of deaths from house fires are in homes with no working smoke alarms. Smoke alarms save lives - but only when they are working.
San Diego, California (PRWEB) November 01, 2013
Alarmreminders.com is the most effective smoke alarm safety campaign ever developed. It is a very simple, free, life-saving strategy - a smoke alarm reminder service. There is a death in a house fire every 3 hours and a fire every 85 seconds, and the sad reality is that most of these deaths could have been avoided. Alarmreminders.com aims to dramatically reduce the number of deaths.
Smoke alarms save lives, but only when they are working. Smoke alarms must be tested regularly; batteries replaced at least once a year, and the alarm replaced before it reaches 10 years of age.
It is easy to forget to perform these potentially life-saving tasks. To help protect everyone from death or injury through fire, this reminder service sends an email or text message reminder to perform these life-saving actions.
People can register and receive regular email or text message reminders to test their smoke (and carbon monoxide) alarms; change the batteries in their alarms and replace their alarms when they reach 10 years of age. They can choose how often they wish to be reminded (weekly, monthly, 6 monthly etc.) and they can also send eCards to people they know and care about - further promoting awareness and fire safety.
Media stories and Fire Department announcements after a death from a house fire urging people to test their smoke alarms has very short-term benefit. Once-a-year programs timed around daylight savings also has short-term benefits. What has been needed is an on-going, year-round public safety campaign, and the launch of Alarmreminders.com provides this ongoing, permanent solution that raises public awareness and ensures more working smoke alarms in more American homes. Lives will be saved.
The tragic loss of American lives can be reduced and lives saved. The more people enrolled in this service, the more lives that will be saved.
Alarmreminders.com is a safety initiative from Alarm Compliance USA. Alarm Compliance USA are specialist smoke alarm and carbon monoxide service providers. The experienced team have conducted inspections on 2 million smoke alarms. More than 50% of houses that they attend for the first time do not have working, compliant smoke alarms. The aim of Alarm Compliance USA is to ensure 100% compliance with all alarm legislation, safety for the occupants and a cost-effective service for property managers and owners/landlords.