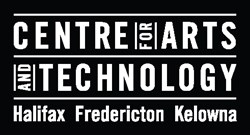 We're thrilled with the way our studio version of I Saw Mommy Kissing Santa Claus has come together and are pumped to bring it to life with the skilled staff and students at Centre for Arts and Technology. - Mark Luongo of PRTY H3RO
Kelowna, BC (PRWEB) November 01, 2013
Canadian Art School - Centre for Arts and Technology is pleased to announce that on November 14th, students from its Kelowna campus will be participating in a music video shoot and photography session with hip-hop-dance-rock trio PRTY H3RO. Students will work with the band to film the video for a Christmas-themed release, utilizing the digital art school's state-of-the-art recording and film production studios.
The idea of filming a video for the holiday themed song at Centre for Arts and Technology, and involving students from the school's Audio Engineering & Production and Digital Film Making programs, came about when PRTY H3RO guitarist and "musical mastermind" Mark Luongo visited the school earlier this year and spoke with students and faculty.
Says Graham Cairns, Department Head of Audio and Film Programs, "We are very excited about the opportunity for our students to take the lead on such a unique, high-profile professional film shoot with a rising Canadian band like PRTY H3RO. Not only will it be a wonderful 'hands on' learning experience for them, it will also be a chance for them to really show their stuff and put their talent to work."
Mark Luongo of PRTY H3RO says, "We're thrilled with the way our studio version of I Saw Mommy Kissing Santa Claus has come together and are pumped to bring it to life with the skilled staff and students at Centre for Arts and Technology." Luongo also says, "Us PRTY H3RO types are fortunate to be in the position that most of these students would like to find themselves in one day—creating media that people are actively consuming and sharing. As a former student of the digital arts, I know how invaluable real-world experience like this can be."
The song and video will be released in early December (exact date TBA) on PRTY H3RO's website and social media pages. Viewers will also be able to check out the video and photos from the shoot on the Centre for Arts and Technology's website, http://www.digitalartschool.com.
PRTY H3RO's debut single, Life of the PRTY, released on July 8, has now been in the Billboard Canadian Hot 100's top 40 for 6 weeks and counting. The trio has completed two cross-Canada tours and opened for acts like Classified, Sean Kingston, Sam Roberts, and Finger Eleven. More information about the band is available at http://prtyh3ro.com.
Centre for Arts and Technology delivers fully accredited certificate and diploma programs across a variety of arts and technology disciplines. The Kelowna campus features two contemporary recording studios and a film production studio, in addition to extensive digital video, motion graphics, digital media, digital effects, fashion design, and animation labs.