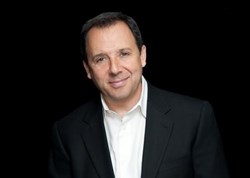 A highly gifted speaker, Suskind has the ability to convey complex stories in a manner that engages all audiences.
(PRWEB) November 04, 2013
APB exclusive speaker Ron Suskind, a Pulitzer-Prize winning journalist and author of five New York Times bestselling books, is scheduling speaking engagements to discuss his new book, "Life, Animated." Planned for release in spring 2014, Suskind's latest work is a deeply personal memoir that follows the author's 20-year journey in connecting with the oft-misunderstood world of autism, as seen through the eyes of his son, Owen.
A seemingly normal toddler fully engaged in life and all that surrounds him, Owen abruptly loses his ability to communicate at the age of three. While the Suskind family desperately searches for answers, they soon discover their son is relying almost exclusively on Disney animated movies to understand himself, his emotions, and the complexities of human interaction. To reach him, the family enters this vivid, symbolic world – learns its methodologies and a kind of dialogue-heavy language their son has invented – until, across years, they can all manage to emerge together.
More than a tale of redemption, "Life, Animated" lifts the veil on autism and provides new insights towards understanding and communicating with those whose worlds are not in sync with our own. Eagerly awaited by medical researchers, autism advocates and public/social service workers, Suskind's future bestseller will change the way readers of all stripes see themselves and the many among us who don't fit in, but possess untapped potential and uncommon grace.
"Life, Animated" is destined to achieve the status of "modern day classic," and will serve as the next great chapter in Suskind's long, prestigious writing career. One of America's most honored journalists, Suskind's unparalleled access to our nation's leaders – both political and business – have established him as a leading purveyor of fostering ethics, crafting effective leadership, strategically setting goals and eliminating avoidable errors. A highly gifted speaker, Suskind has the ability to convey complex stories in a manner that engages all audiences. The honesty he brings to each presentation captivates crowded auditoriums and classrooms alike, helping people from all walks of life understand the world today from a foremost expert on the human experience.
Organizations wishing to book Ron Suskind should contact American Program Bureau at 1-617-614-1600 for information on available dates and program topics. By scheduling Mr. Suskind to speak at this juncture, audiences can be among the first to hear the author discuss his inspiring story and groundbreaking work on autism. For more information on American Program Bureau, please visit http://www.apbspeakers.com. For a profile on Mr. Suskind, please visit http://www.apbspeakers.com/speaker/ron-suskind.
About American Program Bureau
American Program Bureau was founded in 1965 with the mission to provide a forum for the world's foremost thought leaders to enlighten and inspire audiences. Today, APB's roster includes an array of expert speakers on the topics of national affairs, ethics, business and overcoming adversity, including Juan Williams, Dan Rather, Geoffrey Canada, Nicholas Kristof and more.
The global leader in the professional speaking industry, APB represents hundreds of speakers who share unique personal stories and serves thousands of clients worldwide. Today, the APB family includes leaders across the disciplines of healthcare, education, government, business, and entertainment, including Mikhail Gorbachev, Archbishop Desmond Tutu, Richard Branson, Michael Douglas, and many others.
# # #