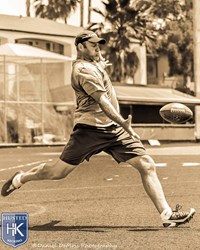 I picked up a camera for the first time a little over three years ago as a way to process through the death of a very close childhood friend. -Daniel DeMoss
San Diego, CA (PRWEB) October 31, 2013
Husted Kicking interviews photographer Daniel DeMoss, on sports photography and photographing for the California Kicking Experience, at Michael Husted.com.
Daniel DeMoss is "new" to the game of photography. In fact, his love affair with his camera began just a few years ago. Yet, he now says, this is his chosen profession.
"I picked up a camera for the first time a little over three years ago as a way to process through the death of a very close childhood friend," says DeMoss. "However, it was from the first day I took my dad's Nikon D40x out of his bag that I knew photography was my calling and I made my mind up to do whatever it took to become a professional photographer."
DeMoss's dream to be a professional photographer got a boost from his relationship with former NFL kicker Michael Husted who is a kicking coach in San Diego, CA.
"I was a personal friend of Michael Husted before I began to shoot for him," says DeMoss. "Mike and I were out to dinner and I brought up my interests in shooting for him at one of his kicking camps. A few weeks had passed and I got a call from Michael he said he had a few pro prospects kickers coming to work out with him and would like me to take a few photos."
DeMoss says that was a little over two years ago when he began his journey into the world of sports photography.
"I remember that first day shooting I showed up at the football field 30 min early ready and excited to prove myself," says DeMoss. "Michael came up to me and said "just do what you do." And luckily for me I did get a few shots he really liked and have been shooting for Husted Kicking ever since.
In the interview, DeMoss also talks about his struggle with ADHD and Dyslexia and how he hopes his success in becoming a professional photographer will help inspire others who struggle with similar disabilities.
"I want my story to help children or adult that struggle with ADHD, Dyslexia or any learning challenge to know there not alone and no matter what, you have a gift or many gifts," says DeMoss.
Adding "let's find that gift and begin living as a gifted human with our challenges."
Go to Michael Husted.com for the complete interview with Daniel DeMoss.
Go here for more information about the California Kicking Experience.
ABOUT THE CALIFORNIA KICKING EXPERIENCE:
Husted Kicking's California Kicking Experience is a great opportunity to get comprehensive training and fun competition while enjoying all that the Southern California has to offer.
This two-day experience will provide:
•Professional kicking, punting, long snapping instruction with Michael Husted
•Position specific strength & conditioning
•Mental training assessment and program
•Yoga
•Surfing
•Professional action photos by Daniel Demoss Photography
During your visit to San Diego, you will have two days of instruction with on field video review.
These elite sessions will have no more than four people per group to assure the highest level of quality instruction. After one of the instructional sessions, a strength & conditioning expert, Cameron Trickey, will put you through a workout that will focus on the key muscle groups that are vital for specialists to perform at a high level.
After the other instructional session, we will enjoy a group yoga session. Practicing yoga allows us to get connected with our bodies to better understand the flexibility and balance needed to kick, punt or snap effectively.
To complement the physical side, you will have an hour meeting with Sport Psychologist, Dr. Jeffrey Jones. Dr. Jones will assess your mental training and develop a program that you can utilize throughout the year, whether in-season or off-season.
Last, but not least, what would a trip to California be without Surfing or Stand Up Paddling?