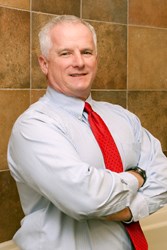 Texas City, TX (PRWEB) October 31, 2013
People experiencing gum disease symptoms can now reduce the risk of tooth and jaw bone loss by visiting Dr. Stephen Hale to receive the Laser Assisted New Attachment Procedure (LANAP). This laser gum surgery offers patients predictable results for treating gum disease while stimulating bone regeneration.
There are several reasons that patients should be concerned about losing teeth because of gum disease. Losing teeth can make eating and talking more difficult; tooth loss can also cause the remaining teeth to shift out of alignment. Perhaps most troubling, though, tooth loss leads to bone density loss. This is because stimulation from teeth is what prevents bone resorption or deterioration. Once teeth are lost and the stimulation stops, the jaw bone begins disintegrating, which causes patients many problems.
Jaw bone loss is an ongoing process that begins as soon as teeth are lost. A prosthetic tooth that is anchored in the bone can stabilize bone density, but other forms of tooth replacements, such as bridges or dentures, will not. Patients who choose unanchored replacements will see changes in jaw shape over time. This can cause prosthetics like dentures to stop fitting correctly. If the jaw bone has disintegrated enough, many tooth replacement options will not work unless patients have a bone graft.
It is best for patients to seek treatment to prevent loss of teeth and stabilize bone density levels early. Dr. Hale offers patients LANAP because it reliably treats gum disease and offers a low risk of infection. The laser used during the procedure even stimulates the bone, which can help the teeth reattach. An additional benefit for patients who do not like the thought of gum surgery is that laser gum surgery does not harm any healthy tissue; only periodontal disease absorbs the wavelength of the laser, reducing discomfort and recovery times.
Patients who show periodontal disease symptoms like inflammation and bleeding gums should schedule an appointment with Dr. Hale. Patients can also call his office or visit his website for more information on LANAP and bone density loss.
About the Doctor
Stephen C. Hale is a general dentist offering personalized dental care for patients in Texas City, TX for over 26 years. Dr. Hale received B.S. degree in biology from Stephen F. Austin College and his D.D.S. degree from the University of Texas Dental Branch at Houston. He continues his education today and is a member of professional dental associations. Dr. Hale is part of one percent of dental professionals providing the only FDA cleared laser procedure for gum disease and periodontal treatment. To learn more about Dr. Hale and his dental services visit his website at http://www.stephenhaledds.com and call (409) 229-4184.