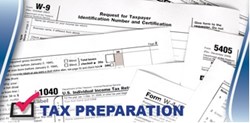 Open year round
Las Vegas, Nevada (PRWEB) October 30, 2013
The tax preparation offices of iQTAXX, which is located in Las Vegas, Nevada, recently announced its launch of an educational and informative new website (iqtaxx.com) geared for individuals looking for information on tax services.
Las Vegas, Nevada, October 30, 2013 - A full-service tax preparation and accounting company, iQTAXX, which is located in Las Vegas, recently announced the creation of its new, informative website (iqtaxx.com). Designed for the purpose of providing interested individuals with relevant information regarding tax issues as well as a look at the company, this website features a learning center, a FAQ section, blog, and current information on various aspects of filing income taxes for both individuals and businesses.
An iQTAXX representative explains the decision to launch iqtaxx.com by stating, "Our office is dedicated to the provision of useful tax information that can minimize tax liabilities, maximize refunds, and assist our clients and the general public in gaining access to our services." He emphasized the company's desire to provide a tool that people can use to make better tax decisions by stating, "It is our duty to help our clients understand each tax option that is available to them. Our website is part of that effort."
The owners of iQTAXX understand that clients need access to relevant tax material throughout the year, to enable them to meet their obligations, while also maximizing their refunds. This is the primary reason behind their decision to provide access to this type of information online.
A full-scale income tax preparation and accounting company serving residents and businesses of Las Vegas, Nevada, iQTAXX employs highly trained professionals holding tax-service proficiency as well as the competency to handle a diversity of accounting and book balancing issues. The company provides tax services year-round along access to its website.
iQTAXX
Las Vegas Tax Professionals
6620 West Flamingo Road
Suite 3
Las Vegas, NV 89103
702.871.7884
702.933.3127 (Fax)
Iqtaxx.com
###