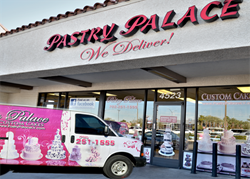 Las Vegas, Nevada (PRWEB) October 30, 2013
Las Vegas Pastry Palace is eager to announce that it is now in a position to provide wedding cakes that are made-to-order or selected from existing designs. This gives brides and grooms a unique opportunity to envision a beautiful confectionery display and have it brought to life for their romantic event. Intrigued with the ability to make this special day even more memorable for the happy couple, the master chef at the Pastry Palace is delighted to be a part of this transition.
The Las Vegas wedding cakes offered by the Pastry Palace offer masterful visions of sugar artistry that are carefully crafted with an eye to delicacy and beauty. The owner of the Las Vegas Pastry Palace notes that his cakes are "Designed to create a beautiful vision and a memorable slice of sweetness for a truly memorable event. Toward that end, we are proud to be able to provide the perfect spot for brides to choose the wedding cake of their dreams."
This Las Vegas bakery provides a wide assortment of wedding cakes designs. They include traditional recipes (vanilla, chocolate, and marble) as well as fanciful decorative accents. Interested individuals are invited to visit their website for a look at existing wedding cake designs. They can also contact our chef for more information on our wedding cakes.
Las Vegas Pastry Palace, a family-owned bakery, specializes in the creation of one-of-a-kind cakes, cupcakes, pastries, and baked goods crafted from scratch and baked without the addition of artificial preservatives. Wedding cakes have become a specialty at the bakery, offering brides and exceptional opportunity to provide valuable input into the styling of their confection. The master decorators bring unique skills of sugar artistry to each creation, enhancing its existing beauty. Their local reputation is one of being a superior bakery in the Las Vega area.
Pastry Palace
4523 West Sahara Avenue
Las Vegas, NV 89102
info(at)PastryPalaceLV(dot)com
702.251.1555
Pastrypalacelv.com
###