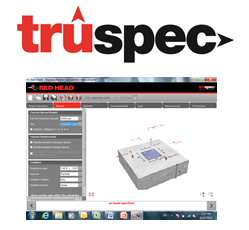 Glendale Heights, IL (PRWEB) November 06, 2013
ITW Commercial Construction, North America introduces a new anchor calculation software allowing architects and engineers to design concrete anchoring connections in minutes. The new Truspec anchor calculation software is free for download at http://www.itw-redhead.com. Design professionals can create anchor connections in accordance with ACI 318 Appendix D.
Truspec anchor calculation software users can quickly and easily:

Select the number of anchor points
Model simultaneous moment forces in x-, y-, z-axis
Model multiple edge and spacing distance configurations
Calculate critical values for total strength design of anchor connections
Optimize designs across multiple scenarios.
This software also includes a user-friendly interface design. This design implements real-time 3D graphics, color coded results, value displays in US Customary or Metric Units.
Additionally, Truspec anchor calculation software users can:
Predict mode of failure for anchor connections
Recommend most efficient anchoring method
Recommend most efficient anchor size
Specify anchoring methods to achieve a desired failure mode.
Product datasheet, photos, ICC-ES evaluation reports, and specification packages are all included in the Truspec anchor calculation software. This software also supports architects and engineers by generating printed or PDF versions of anchor connection data, detailed calculations for anchor connection design, test reports, and specification packages.
ITW Commercial Construction North America is excited to offer this anchor design software to design professionals free of charge. For additional information or to download the software, go to http://www.itw-redhead.com or email Ben Nolen.
To locate a Red Head, Buildex, or Ramset sales representative in your area, call 1-800-348-3231.
About Red Head
Since inventing the concrete anchor in 1910, the Red Head® family of concrete anchoring solutions continues to offer premium products to commercial and residential builders around the world. In addition to the Epcon® line of adhesives, Red Head also offers the Trubolt® line of mechanical anchors, and the Tapcon® line of screw anchors.
About ITW Commercial Construction North America
ITW Commercial Construction encompasses the brands Buildex, Red Head, and Ramset with an overall history dating back to 1910. Within this history was the invention of the first "powder-actuated tool" in 1947 and the original "self-drill" anchor in 1967. Together, Red Head, Ramset, and Buildex work to find innovative, quality products for the construction industry in areas of concrete, drywall, metal building, fire protection, plumbing, electrical, and HVAC.