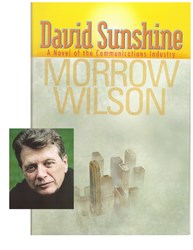 Only good reviews.
New York, NY (PRWEB) November 12, 2013
David Sunshine, a novel about the TV industry in the age of MAD MEN is funny; it is heart-breaking; it is encouraging. It tells the tale of an innocent young man who comes to the big city and goes to work for the most famous and highly-regarded TV producer/talk show host in the land, who proudly (if privately) boasts of being a successful con man.
The book follows in the footsteps of Dickens and Mark Twain, whose best work is full to overflowing with colorful characters who either scare the hell out of you or make you laugh out loud. It is fact-based – Morrow Wilson was there -- and it is dedicated to the memory of his late wife of twelve years, Rue McClanahan.
Recent interviews with Morrow Wilson about David Sunshine include Bloomberg Radio(world-wide), X Zone Radio (also world-wide), as well as a 50-station AM hookup from coast to coast, stretching from AM Radio 970 AM ("The Talk of New York") to WRLA 870 ("Radio for Grownups"), The Mother Love Show in Los Angeles and The Tim McLoone Show on WOR in New York City as well as On-line, YouTube, iPod, streaming and plenty of Satellite radio.
It has received no bad reviews. Here is a sampling:
"Great novel, one that seems to feature more revelations than any nonfiction book could. Deserves to be read, considered, and then read again." – Gary Rhodes
"It's a very funny and poignant story written in a unique style. I'm not certain if it's an allegory, but T.J. in his "aw shucks" polite way shows the heroism of maintaining one's integrity and just plain niceness in the midst of so much greed and degradation of values. The narrator reminded me a bit of the stage manager in "Our Town." – Sharon Richards
"Delightful and full of truth." – Eliot Fremont-Smith
"Great book, historical novel in the tradition of Gore Vidal!" – Don Bellizzi
"Exactly the way it was." – Henry Morrison
"Craftsmanship and understated elegance define Wilson's style." — Jack Cornwell
David Sunshine by Morrow Wilson has received 4 stars from Amazon and 5 stars from Goodreads.
http://davidsunshinethenewnovel.com
regaleaglesnest(at)live(dot)com