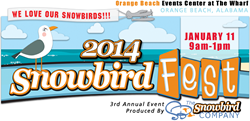 We expect big crowds this year. Snowbird Fest is free to our visitors and showcases the products and services of local businesses
Orange Beach, Alabama (PRWEB) November 05, 2013
Every year, millions of snowbirds fly south for the winter, exchanging cold and snow for the sunny warmth of the South. Ready to welcome snowbirds to their winter home is the 3rd annual Snowbird Fest, Saturday, January 11, 2014, 9am to 1pm, at The Orange Beach Event Center, in Orange Beach, Alabama.
Event organizers at The Snowbird Company, the nationwide No. 1 snowbird lifestyle resource since 2002, have planned a day full of entertainment, information, and networking opportunities for snowbirds as well as the local businesses and people who welcome them. Registration is required, but the event is free and open to the public. Attendees may register free, at the door or save time by pre-registering online at http://www.snowbirdfest.com. "The advantage to pre-registering is that you won't have to wait in line and, if you register online before January 1, you will be entered to win one of three eReaders to be given away the day of the festival," said Chris Wright, co-owner of The Snowbird Company. Winners must be present at the event for the drawing.
Wright says Snowbird Fest is one of the fastest growing events on the coast. "We went from a couple hundred visitors the first year, to more than 2,000 last year, and we expect big crowds this year. Snowbird Fest is free to our visitors and showcases the products and services of local businesses and organizations that cater to the snowbird lifestyle, with health screenings, games and contests, giveaways, product and service samples, and helpful info on homes for sale and monthly or multi-month properties for rent. Snowbirds can sample local cuisine by great local restaurants like Lulu's, Baumhower's Wings, Compleat Angler, The Original Oyster House, The Shrimp Basket, Paradise Fruit Wines, and more!
"Surrounding all of the exhibits, we have musical and other entertainment, food samplings from many area restaurants, an RV exhibit by Johnny's RVs, even boats on display, and the return of the Snowbird Fest Car & Truck Show, which was a phenomenal success last year."
The Snowbird Fest Car & Truck Show features classic cars and modern-day, custom automobiles. Held outdoors, guests will enjoy the mild January temperatures on the Gulf Coast while they peruse the hot rods, sedans and roadsters of yesteryear. "Adding to the fun is that snowbirds vote for their favorites in various categories at the show, and prizes are awarded," Wright said. Pre-register a vehicle for the show by December 1 at http://www.snowbirdfest.com/registration for $15 and receive a commemorative T-shirt; registration the day of the event is $20. The show begins at 9am.
Registration for exhibitors and vendors for Snowbird Fest is still open. "Local companies wishing to promote their business, services, or products to the thousands of eager snowbirds in attendance are welcomed to take part, but exhibit space is limited so we encourage you to sign up now," Wright said. Vendor/exhibitor booth rates start at $200. Nonprofit groups are welcomed to exhibit at a discounted rate. More information is available at http://www.SnowbirdFest.com/snowbirds.htm.
Since 2002, The Snowbird Company has been the top resource for millions of winter travelers from across the U.S. The company includes both regional and state-specific highly visible websites catering to the snowbird lifestyle that receive more than 60 million hits a year. The sites, such as AmericanSnowbird.com, AlabamaSnowbird.com, and FloridaSnowbird.com, offer an array of condominiums, homes, villas and hotel rooms at discounted, offseason, multi-month rates as well as articles and other features geared toward what snowbirds want and need to know about their winter travel.
Sponsors for the 2014 Snowbird Fest include Baumhower's Restaurants, Johnny's RVs, and South Baldwin Regional Medical Center. For more information about the event, to participate as a sponsor or vendor, a car show exhibitor or to pre-register as a guest, visit http://www.snowbirdfest.com, or call (800) 270-2457.