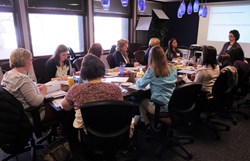 I feel as if I learned more about occupational therapy interventions for children with SPD in those five days than I did during an entre semester in human development.
Denver, CO (PRWEB) October 31, 2013
The Sensory Processing Disorder Foundation offers experienced clinicians the unique opportunity to learn from specialists at the SPD Foundation and its partner organization, STAR (Sensory Therapies And Research) Center, in Greenwood Village, Colorado through the Intensive Mentorship Program. This five-day program, headed by Lucy Jane Miller, PhD, OTR and Sarah A. Schoen, PhD, OTR, is a small group setting where participants learn to apply clinical reasoning through lectures, treatment observations, and analyses with experienced therapists.
After learning about work being done with special needs children at Fletcher Miller School, a nearby public school, the SPD Foundation offered a scholarship for the mentorship program to Melissa Fightmaster who is a certified occupational therapy assistant at the school. All students at Fletcher Miller, ages 3 to 21 have multiple disabilities, such as cerebral palsy and SPD. Some of the children are medically fragile and require nursing care while in school. Melissa was able to take what she learned in the mentorship program and apply it to the work she does with her special needs children at the school. "I learned so much from Dr. Miller's lectures because she interacted with the group, allowed questions, made jokes, and double-checked to make sure we understood what we'd learned. In fact, I feel as if I learned more about occupational therapy interventions for children with SPD in those five days than I did during an entre semester in human development," said Melissa.
The mission of the SPD Foundation is to improve the lives of children and adults who have SPD, as well as their families, through research, education, and increased global awareness. Offering a scholarship to Melissa was a perfect mission-focused way to give back to the local community, since the training will benefit many children in the Denver area. The experience was so positive that the SPD Foundation decided to expand the program and will offer seven scholarships in 2014 to cover the mentorship tuition—worth $1,500 each—one scholarship for each of the seven Level 1 Intensive Mentorship sessions. Session dates are found on the SPD Foundation website.
The mentorship program teaches Dr. Miller's STAR Center Treatment Model, which focuses on intensive, short-term treatment along with family participation and parents–only educational sessions. The STAR Center has numerous indoor treatment rooms and the "world's best sensory playground" outside, which also acts as a research facility for the SPD Foundation. Since occupational therapists use a variety of tools and toys to work one-on-one with their pediatric clients, mentorship participants often view the interactive learning style as one of the most valuable parts of the program.
Scholarship applicants must have at least 2 years of occupational therapy experience with children and must currently work in a pediatric setting. The application can be found on the SPD Foundation's website. Completed applications must be received by November 30, 2013. An independent review committee will evaluate all applications and select recipients on the basis of their answers to a number of essay questions. Scholarship recipients will be announced in early January, and recipients can attend any of the seven Level 1 Intensive Mentorship sessions that will be held during 2014.
ABOUT SENSORY PROCESSING DISORDER FOUNDATION
The Sensory Processing Disorder (SPD) Foundation, a Colorado 501(c)(3), is the world leader in research, education, and awareness for Sensory Processing Disorder, a neurological condition that disrupts the daily lives of more than 4 million Americans. The SPD Foundation offers educational programs, conducts SPD research, and provides resources for parents worldwide. Dr. Lucy Jane Miller, widely recognized as a leader in SPD research worldwide, founded the SPD Foundation in 1979. The SPD Foundation provides hope and help to individuals and families living with SPD. For more information, visit SPDFoundation.net or call 303-794-1182.