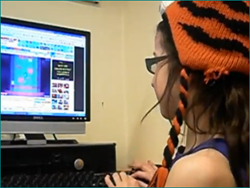 The Thinking Skills Club does not ask students for any personally identifying material, putting it in compliance with the Computer Online Privacy Protection Act.
Toronto, ON (PRWEB) November 01, 2013
A school counselor in Palm Beach, Florida, is being denied access to a website of cognitively enriching games by her school board, according to Mich Moldofsky, founder of the website.
The Thinking Skills Club is a website that provides games selected based on cognitive science research for their ability to help kids develop learning capacity. Games from other popular gaming sites, such as Miniclip, are sorted into categories such as Executive Function, Memory, Processing Speed and Attention, based on research that suggests they can improve a student's abilities in these key areas.
The Palm Beach District School Board reviewed the site at the request of a school counselor who wanted to use it as an activity in her weekly study group. Unlike many other sites aimed at the grade school market, where the games or activities all reside on the website itself, Moldofsky's club uses games that come from commercial sites, which are often blocked by school boards as frivolous at best and, at worst, dangerous.
"I use these games because they are more fun than games developed especially for this purpose," Moldofsky explains. "If games aren't fun, kids don't want to play them. They may have benefits, but it's like work, which defeats the strategy." Moldofsky says most of the games run on his website itself, but they originate on other sites of which school boards disapprove. "I know where they're coming from. I myself cringe at some of the games on these sites. But in a club, there's a supervisor keeping an eye out." Moldofsky also notes that unlike many websites, his does not ask for any personally identifying material, putting the Thinking Skills Club in compliance with the Computer Online Privacy Protection Act.
As for protecting young minds from inappropriate material, Moldofsky is all for it, and realizes the school boards are still figuring it out. "They can see inappropriate material on Wikipedia," he says. "Deciding what to block and what not to block is a tricky thing."