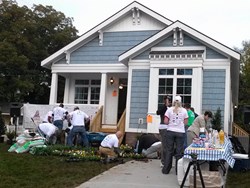 Troy, MI (PRWEB) October 31, 2013
Champion Home Builders, Inc. received a national home building accolade as part of the 2014 Jerry Rouleau Awards for Excellence in Marketing and Home Design presented by the Building Systems Councils (BSC) and the Log Homes Council, part of the National Association of Home Builders (NAHB). Champion Homes won in three categories for home design and two categories for marketing plus one honorable mention. The awards were presented on Oct. 21, 2013, during the BSC's "Showcase24," the only national conference and educational event focused exclusively on the systems-built industry.
The annual Jerry Rouleau Awards for Excellence are judged by an independent panel of industry experts, and companies like Champion were praised for the quality of their work.
Among the awards, Champion was honored for Excellence in Home Design, less than 2,000 sq. ft., for the Rosewarne home model, designed by Roberto Kritzer, Vice President of Design at Champion Homes. Champion designed and built the Rosewarne, and then donated it to an injured veteran through the House United project during the 2012 election. Two halves of the house were built in partnership with Craftsman, Rebuilding Together and Next Gen along with nonprofit organizations, and were displayed at the Republican National Convention and the Democratic National Convention. Legislators from both parties were involved in putting on the finishing touches. The home is now occupied by Sergeant John Jones II and his family after it was 'united' on its foundation in Charlotte, North Carolina.
The BSC judges cited the Rosewarne model as having a pleasing exterior and finishes, and noted the focus the design paid to accessibility for injured veterans, with wide hallways and entry ways.
The Excellence in Marketing for Builder/Dealer Marketing Materials award was given to Champion's EcoCraft Smart Home animation. After contracting Champion to design Smart Homes featuring solar energy, Pennsylvania-based builder EcoCraft Homes requested that Champion help educate its customers about modular building as a fast and high-quality option. To meet this request Champion produced an animated video that shows the installation of a modular home, reinforces its strength and aesthetic appeal, and fades into a shot of an actual modular home. The builder now uses this video to break down barriers in perception and showcase the power of modular construction.
"As the sole modular builder in one of Pittsburgh's premier suburban communities, the use of video documentation has proved critical to demonstrating the modular concept to future homeowners," said Elliot Fabri of EcoCraft Homes.
For more than a decade, the BSC's awards program has promoted excellence in systems-built housing. Front runners in the industry are honored at the annual awards presentation for their innovative marketing strategies and unique systems-built housing designs.
Champion's winning projects will be displayed on the BSC Awards Wall during the 2014 International Builders' Show in Las Vegas, Feb. 4 -6, 2014. For more information, visit http://www.ChampionHomes.com.
About Champion
Troy, Michigan-based Champion Home Builders, Inc. is a leading brand in off-site residential and commercial construction which, through its operating subsidiaries, manufactures buildings at 30 facilities in North America and the United Kingdom. Champion built homes are sold through a network of more than 1,000 builders, retailers, and developers located throughout North America. Champion Commercial Structures, a division of Champion, specializes in multifamily, commercial and industrial modular construction serving developers, builders and large value institutional clients. The Champion Commercial Family operates in the USA (Champion Commercial Structures), the UK (Caledonian Building Systems) and in Canada (Gibraltar Industries).