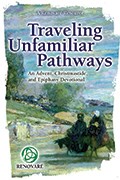 Our Advent, Christmastide, and Epiphany devotional is full of fellow travelers' stories, encouragements, and insights from the Scriptures. - Executive Director Quan
Denver, CO (PRWEB) November 06, 2013
Renovaré has released Traveling Unfamiliar Pathways, a Christmas-season devotional that speaks to a modern mobile world by showing how numerous people in Christ's time also traveled from place to place. The paperback book includes reflections written by board and staff members, as well as friends and family of the international Spiritual Formation movement.
Executive Director Rachel Quan says the devotional reflects how a life of following Jesus is all about the journey, whether of those who came before us, today's saints, or those who will travel the road in the future. While no one knows what tomorrow—let alone today—will bring, they can take comfort in knowing they don't have to walk the path alone.
"Our Advent, Christmastide, and Epiphany devotional is full of fellow travelers' stories, encouragements, and insights from the Scriptures," Quan says. "We wanted to invite the wider Renovaré community to join us as we take the time to think about the ways God faithfully takes us on the journey. And, how he provides the strength and relationships in order for us to fully experience the Kingdom of God."
"Take this devotional and dig in," says Jon Bailey, the co-owner of Lightstock.com and newly-elected Chair of the Renovaré Board of Trustees. "Let it guide you into the meaning and mystery of Advent."
The multi-faceted publication reviews each of the four Sundays in Advent, based on the themes "Walking with Hope," "Walking by Faith," "A Joy-filled Journey," and "The Way of Peace." There is also a Christmas Eve reading for the lighting of the Christ candle. In addition, there are a dozen additional readings for Christmastide from December 25 through Epiphany on January 6.
Chris Hall, who wrote the meditation on the first Sunday of Advent, says his hope for Traveling Unfamiliar Pathways is that Christ's pilgrims will be encouraged by these meditations as they wait expectantly for the Savior's birth. The author of the Epiphany devotional, former Board Chair Margaret Campbell, says the idea of reflecting on unfamiliar paths is to show the hope and faith made possible by Christ's birth. "I am confident that each devotional will help us walk with confidence, peace, and joy," Campbell says.
Copies are available for a minimum donation of $8, which covers the cost of production and shipping. Group discounts are available by calling Joan Skulley at 303-792-0152.