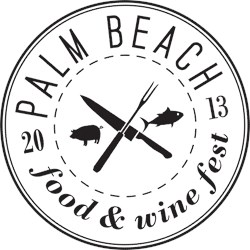 South Florida exudes laid-back sophistication.
Palm Beach, FL (PRWEB) October 31, 2013
The annual Palm Beach Food & Wine Festival is just a few weeks away – 42 days to be exact – but who's counting?
Considered a cannot-miss event by many, the Palm Beach Food & Festival has earned its spot amongst the most elite of culinary events across the country. This festival draws crowds of people from all over the world who share a sophisticated palate and a deep appreciation for epicurean delights.
A foodies dream event, this year's Palm Beach Food & Wine Festival will take place December 13 - 17 and will feature more than 50 of the world's brightest culinary talents. Names like Ted Allen, Robert Irvine, Daniel Boulud, Christina Tosi, Todd English, and Amanda Freitag, grace the 2013 talent roster.
Showcasing delicious dishes and libations, the events take place in a number of places across Palm Beach County, including the Four Seasons, The Breakers, Café Boulud, Swank Farms, PB Catch Seafood and Raw Bar, Coolnary Café, Pistache French Bistro, and buccan. The Annual Chef Throwdown and 7th Annual Grand Tasting will take place at 150 Worth on December 17 from 6pm – 9pm. The official host for 2013 is The Four Seasons Resort Palm Beach.
With temperatures dropping in most of the country, the moderate (if not warm) temperatures, sunny turquoise skies, beautiful beaches, and an ever-increasing abundance of things to do to keep people of all ages more-than-entertained, are an instant draw and the number one reason many people choose to call Palm Beach home. Whether it involves food and drink, cultural events such as theatre, musical concerts, art fairs and other exhibitions, festivals of all kinds, venues for sporting events for golfers, tennis players and many others who want to play or be a spectator, venues for those who want to play sports recreationally, or places for those who just want to lounge poolside or beach-side, South Florida has it all.
Whether a full time resident or part-time "winter" resident of South Florida, all who proudly call the area home can surely agree, Florida is undoubtedly at the top of the list of most-desirable places to live in the country.