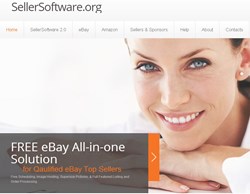 The SellerSoftware v2.0 can help high volume sellers with full features better than before.
Los Angeles, CA (PRWEB) October 31, 2013
SellerSoftware v2.0 was released on October 20, 2013 and now provides users with valuable tools for selling products on eBay and Amazon. The all-in-one web service provides a multi-channel inventory management solution for sellers. It also incorporates shipping management, listing tools, and centralized order processing.
The free software provides a secure means for inventory control, so unauthorized users cannot change quantities or other information. Entire purchase histories are accurately recorded for online retailers. In addition, automated order processing enables inventory quantities to be changed in bulk, eBay transactions to be imported, U.S. Postal Service labels to be printed, and items to be uploaded to Amazon Seller Central.
These features and more are available to high volume sellers. All activities occur in the company's datacenter, so local Internet traffic will not be snagged. All eBay and Amazon orders can be downloaded by merchants, allowing them to save customer details indefinitely. Better yet, users can log in wherever they are – from the home, office, or warehouse.
Version 2.0 also introduces a label printing feature. This enables sellers to save up to 20% on postage. Available to both Amazon and eBay sellers, the shipping management system also allows postal service confirmations to be uploaded in bulk to the major retail websites.
In addition, eBay sellers receive benefits such as free scheduling, image hosting, and supersized pictures. The product also saves a great deal of time for eBay PowerSellers, as it does for Amazon merchants. The latest Amazon Marketplace Web Service is already integrated into the software designed to increase selling efficiency and reduce labor requirements.
To use the service, sellers must be in good standing, or have titles such as eBay Top Rated Seller or Amazon Features Seller. Feedback scores must be high and users must have more than $1 million in sales volume per year.
"SellerSoftware v2.0 can help high volume sellers with full features better than before," said James Kim, the project leader.
SellerSoftware v2.0 is an enterprise level solution built on over 14 years of eBay and Amazon selling experience. For more information on the product, go to http://www.sellersoftware.org/.
About SellerSoftware.org
Based in Los Angeles, CA, SellerSoftware.org provides an enterprise level solution to eBay and Amazon sellers. The company supports independent sellers, providing an efficient e-commerce development system to simplify selling and profit, while saving on costs.