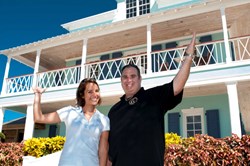 "This [is] to be family-oriented, light-hearted and casual; a place with a lot of familiar faces, but the food has to stand out…our vision is to deliver a high-end out island experience without having to ever leave the island." - Peter Rounce/Restauranteur
Nassau, Bahamas (PRWEB) January 29, 2014
For years, thousands of residents of Bahamas' New Providence's eastern district piled into cars to trek west as more and more restaurants opened miles away from the oldest established residential district--that's about to change. In late February, two experienced restaurateurs are opening Billfish Grill at Palm Cay, bringing a convenient feast in the east to current residents in the area and also making Palm Cay an even more desirable development among vacation home-seekers.
For distinguished restaurateurs Lise Watson-Russell and Peter Rounce, Billfish Grill is an opportunity to do what they both label as novel – create a casual yet unique dining experience with exceptional food inside a family-friendly residential community known for its active social calendar, lifestyle and marina.
"We are creating a restaurant inside a residential enclave with a large 194-slip marina. It's a far cry from designing a restaurant that caters to corporate clients, business lunches or dinner meetings," says Rounce. "This has to be family-oriented, light-hearted and casual; a place with a lot of familiar faces, but the food has to stand out. Overall, our vision is to deliver a high-end out island experience for guests without having to ever leave the island."
Russell and Rounce have agreed that all of the restaurant's elements are in place and are now able to take some time to discuss their vision, menu and plans as construction crews work to complete the makeover of Palm Cay's three-story clubhouse into a full-fledged restaurant. Both are excited about being the creators of the first high-end restaurant east of the Paradise Island Bridge in recent history and what they believe to be the first ever on the southeast coast. Not worried about going where gourmet never dared to go before them, the inventors have a vision inspired by the near-perfect setting – endless waterfront views of the Atlantic Ocean, 1,200 feet of white sandy beach, the marina and a pier stretching into the sea.
As for the impressive credentials of the brilliant minds behind this restaurant, Rounce holds a degree in Hospitality, specializes in finance and marketing and is known for his work at Graycliff in Nassau. Russell earned her Culinary Arts degree from the Art Institute in Ft. Lauderdale and gained her reputation at Goodfellow Farms before opening Chives Cafe at the New Providence Community Centre on Blake Road.
"It really comes down to the freshness and healthiness of ingredients, the blending of flavors and the presentation, but of all three components, it's the freshness that creates the finest taste," says Russell. While a beachfront bistro and café to be called Chives Dockside at Palm Cay will satisfy the quick grab-and-go appetite for a light breakfast and coffee or salads and sandwiches, the more upscale Billfish Grill will boast a menu that includes; freshly caught fish cooked to order, thick rib eye steaks, re-invented pulled pork prepared in a wood-fired grill (which is great for pizza, too), and a variety of conch and crawfish dishes when in season.
Seating about 126 people, Billfish Grill will feature inside dining and al fresco on several patios, all open to the public with reservations. A second floor will be reserved for residents and special events.
Billfish Grill is expected to open in the first quarter of 2014 and Russell's eyes are already widening as she contemplates seasonings that enhance but don't overwhelm the fresh catch and side dishes. It's a decision she'll make along with the executive chef, and that's a name she's not yet willing to reveal.
About Palm Cay:
Palm Cay is a 69-acre residential community along New Providence's southeastern shore in Nassau, Bahamas. It features over 300 properties, including single family lots, townhomes, and condominiums along with a 194-slip, deep water, full service marina. Additional amenities include a clubhouse, two tennis courts, playground, swimming pools, and 1,500 feet of oceanfront with a 1,200 foot long beach. Future plans for Palm Cay include a fitness center and full restaurant. To learn more about Palm Cay and its unparalleled amenities, visit http://www.palmcay.com.