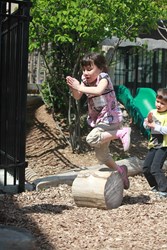 It is great to pick up tips on what's good for the children, what makes them concentrate in the classrooms.
(PRWEB) October 31, 2013
On a breezy Saturday morning, the clouds are scattering in the clear sky from sun's radiant light, and the birds are chirping away high up in the trees in an affluent neighborhood in central Toronto. As one stroll down the street, gentle chattering and laughter of children and adults begin to emerge from a nearby playground--a small, energetic group of children and their parents are following several facilitators to complete myriads of "obstacles" in the play field of a private school. Together with their parents, children are rolling on the grass, hopping from one small tree trunk to another, and crawling to find ways in a maze constructed with colorful silk and bamboo sticks. No one is screaming or yelling to get children's attention. Instead, facilitators are speaking singing to children in a calm and gentle tone, and all the children are cooperating in completing the activities.
This is not your typical playground. Rather it is an obstacle course designed by Milaa." Milaa's obstacle course is carefully chosen and designed based on the developmental stages essential for reading, writing, and arithmetic," says Katherine Fulford, Chair of Early Childhood Education at Waldorf School, Milaa's Chief Program Designer.
On the surface, the "obstacles" are fun for children and great alternatives to free-play in a public playground. Underneath, they are carefully chosen and designed to prepare children for academic learning in the future. "Climbing a rope and walking on the balance beam allow a child to understand the concept of speed and distance, which is important for mathematics," says Paul Jan, founder of Milaa and a graduate of Massachusetts Institute of Technology. "Along with walking in a pathway that looks like a figure 8 while carrying water in a cup, these activities stimulate a child's eye tracking ability which is beneficial for reading, hand-grip endurance for writing, and the hand-eye coordination for note-taking and other tasks involving multiple organs."
The obstacle course mimics the developmental stages that an infant goes through but are often neglected by many caregivers. The course is designed in a way to provide children aged 3-6 the opportunity to work on their under-developed area(s). Each "obstacle" delivers specific developmental needs to toddlers and young children. The course begins with a rolling activity to warm up the limbs to prepare human body to take on other activities, an important step often skipped before a child engage in physical activities. Balance beams help develop a child's spatial awareness for determining speed, distance, and the relationship between objects. "Many children fake their ability to balance by rushing on the balance beam. However, it is children's ability to maintain balance in slow motion that matters for learning," says Fulford.
"Milaa is a great and unique concept," says Min Zhao, professor of marketing at the University of Toronto's Rotman School of Business. "It is very refreshing to see my children learn through natural environment versus what many children are doing today – learning through iPad."
"Children at this age [3 to 6] have a natural inclination to spend time with their parents, and learn more as their parents become a part of the learning process," says Fulford. This is very unconventional in today's society as we are used to dropping kids off at a play date or stay in the background while children play in the park. "This is what makes Milaa different from other programs, in a very good and positive way," says Jan.