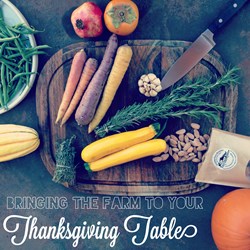 What better way to honor and show gratitude to our local farmers and artisans crafting food miracles than with a Savour This Thanksgiving Box.
Los Angeles, CA (PRWEB) November 01, 2013
OUT OF THE BOX COLLECTIVE, LA's premier farm to table home delivery service, is now offering a complete Savour This Thanksgiving Box to feed four to six, eight to twelve or fourteen to eighteen people. Out of the Box specializes in locally sourced and sustainably produced ingredients accompanied by chef-written meal plans and recipes. Included in the Thanksgiving box are local, fresh ingredients to cook from scratch, artisan-prepared sauces by local farm-to-table caterers Savour This Sauce, and full recipes for a divine Thanksgiving feast. The box is curated for the joy of home cooking with the convenience of select prepared items.
This year, Out of the Box Collective is launching a new Thanksgiving Menu with step by step recipes penned by chef and farm-to-table caterer Marlene Bernstein of Savour This Sauce, creators of a wonderful series of sauces much loved in various local farmers markets and shops. The Savour This Thanksgiving Box includes custom-written recipes to prep a pastured heritage turkey from Deydey's Best (Turkey) Ever or from Rocky Canyon Farm. Classic fall vegetables such as potatoes, yams, leeks, and turnips are sourced from local farmers Earthtrine, Fairview Gardens, Roots Farm, The Garden Of…, Weiser Farms, Maggie's Farms, and others. Customers receive a hearty stuffing kit, pre-made citrus cranberry sauce, tahini vinaigrette, citrus compound butter for the yams and cumin and coriander sauce to uplift the green beans from Savour This Sauce. Finally, the optional sweets: a selection of pumpkin and pecan pies from Marcies' Pies and cranberry hibiscus almond and caramel apple crumbles from Pi Bake Shop complete the menu. Also available are La Clarine White Blend Nr. 1 and Piedrassasi Syrah wines to pair with the meal. Most items also available individually for customers to Build their Own Thanksgiving Box.
THANKSGIVING MENU
Deydeys or Rocky Canyon Farms Heritage Pastured Turkey with Sage Gravy
Roasted Vegetable, Dried Cranberry + Kabocha Squash Stuffing Kit
Garlic Herb Mashed Potatoes
Spiced Bourbon + Citrus Cranberry Sauce
Cumin + Coriander String Beans
Yams with a Chili Citrus Compound Butter
Arugula, Pomegranate, Walnut + Strawberry Salad with Tahini Vinaigrette
Flaky Cheddar Biscuits (optional add-on)
Selection of Central Coast Wines (optional add-ons)
Whole Pecan + Pumpkin Pies (optional add-ons)
Hibiscus Cranberry Almond + Salted Caramel Apple Crumble (optional add-on)
Savour This Thanksgiving Box for 4-6 guests – $195
Savour This Thanksgiving Box for 8-12 guests – $395
Savour This Thanksgiving Box for 14-18 guests -- $495
Orders must be submitted by 9 a .m. on Friday, November 15, 2013. Deliveries will be scheduled for Monday, November 25 and Tuesday, November 26, 2013. Supplies are limited to 50 Boxes.
Out of the Box Collective is also proud to feature select products available at the new AmazonFresh, where these Thanksgiving dishes will also be offered "a la carte" in the days prior to Thanksgiving.