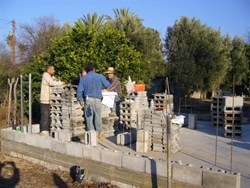 This product line uses durable, safe, and green products that make it possible to quickly develop entire communities.
San Diego, CA (PRWEB) October 31, 2013
Global Habitat Resource will market the product line; under different trade names, including the existing "INCABLOCK™"; primarily in the 20 protected FTA (Free Trade Agreements) countries: Australia, Bahrain, Canada, Colombia, Costa Rica, Chile, Dominican Republic, El Salvador, Guatemala, Honduras, Israel, Jordan, Korea, Mexico, Morocco, Nicaragua, Peru and Singapore.
Global Habitat Resources is continuing to develop additional roofing, flooring and foundation components that will be part of the system; as well as preparing to file the patents on those improvements worldwide.
This product line uses durable, safe, and green products that make it possible to quickly develop entire communities. This unique construction system is made of a series of special interlocking blocks that will replace the flat surface concrete block that require mortar, and will stand up to natural disasters, including; hurricanes, tornadoes, and be more resistant to earthquakes.
Concrete blocks currently require mortar in the building process, making the structures monolithic (rigid and unmoving) and therefore more likely to fail in natural disasters. The INCABLOCK™ does not require mortar since they are interlocking and self-align on a modular format. A structure built with INCABLOCK™ have a dilatation joint in every block, that makes the building safer by moving back to its original position, without crumbling.
INCABLOCK™ can be used to make walls (fences), houses, commercial or industrial buildings. The company will offer kit houses for developers and the do-it-yourself-market.
The INCABLOCK™ system includes blocks that are pre-made with electrical, phone or cable boxes already installed, and comes with precut holes for plumbing, gas, doors and window frames. The INCABLOCK™ system comes in different modular designs: including corner (L) and intersection (T), stretcher and half blocks, door and window finish blocks.
The blocks can be manufactured in concrete or a mix with pozzolan (volcanic dust), fiber reinforced concrete, aerated concrete, fly ash mix or several composites options. It can be made light-weight, high-strength with different R values, by request.
The prefab/modular industry has been around for decades, but in recent years, this option has generated new excitement, and now more architects and builders are jumping into the fray with a new set of prefab homes and prototypes to solve issues, turn heads, and, more importantly, fill a need.
"We are working with nonprofits right now to bring some of these modular homes to third world countries, to help under privileged families.", said Tait Carson, Founder of Barter Rewards, a worldwide barter organization headquartered in Orlando.
The arrival of this new Global Habitat Resources' INCABLOCK™ alternative will open new horizons to Architects: "in fact we are talking to several top architectural firms right now and expect to have a dedicated signature line for then in the near future," said Daniel D. Correa CEO of Global Habitat Resources.
Contact information:
Daniel D. Correa, PhD.
Global Habitat Resources, Inc.
globalhabitatresources.com
(619)752-6766