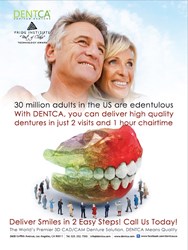 Los Angeles, CA (PRWEB) October 30, 2013
More than one in ten American adults are edentulous, or without teeth. While the Affordable Health Care Act brings national health care coverage back into the spotlight, large-scale solutions to treat the vast edentulous population still remain largely untapped. To help overcome this gap, DENTCA is extending the 222 On Us! Promotion through November 30, 2013 for all licensed U.S. dentists who have not previously used the DENTCA system before. If you are a licensed U.S. dentist who has not used the DENTCA system before, simply register at http://www.dentca.com with the promo code: IWANTDENTCA222 to receive your first complete denture order on us.
Why Edentulism is a Continuing National Crisis
Even though 25% of adults over the age of 65 are edentulous, private dental plans along with State and National policies regarding denture treatments vary so much that both patients and doctors have a difficult time understanding whether anyone is eligible for denture treatment at all. Some states do not provide dentures coverage at all, while others limit coverage to just one set of dentures every five to ten years, and some provide dentures to pregnant women only. Similarly, the Affordable Health Care program also lacks coverage of denture treatments for the 33 million adults who need them, most of whom are at or near retirement age. With this much variance in coverage for the same denture procedure, patients and dentists often postpone denture treatments, even when they are medically necessary for basic healthy living.
Other barriers to denture treatment involve inconvenience and complexity. A large number of dentists consider dentures to be one of the least convenient procedures to provide due to the numerous steps involved in conventional techniques. Conventional denture procedures require five office visits, each lasting up to 60 minutes or more of chair time. Stretched out over multiple weeks and visits, the conventional denture treatment schedule makes many adults reconsider dentures as a last resort or ignore it altogether, not realizing how significantly edentulism magnifies other health problems. Conventional denture procedures are also complex and require multiple devices and tools to even begin. For these and other clinical reasons, dentures have been most prescribed by prosthodontists who specialize in removable prosthetics.
DENTCA Provides the Tools and Resources to Solve the Edentulism Crisis in America.
DENTCA's CAD/CAM denture system enables all dentists to provide high-quality, 100% accurate dentures in only two patient visits and approximately 75 minutes of total chair time from impression to final delivery. Even if health care policies do not address the edentulism problem sufficiently, dental professionals are encouraged to come together and solve this problem through technology empowerment. With DENTCA's 3D CAD/CAM technology and 3D-printing capabilities that provide accurate, high-quality dentures in just two visits, dentists and patients can find almost every denture procedure convenient and simple to complete. DENTCA's digital denture solution is designed to empower all dentists to provide dentures faster, better, more accurately, efficiently, and conveniently -- from single arches to complete dentures and implant overdentures. Providing high quality dentures in a timely fashion to as many edentulous individuals as possible is one of the best ways to prevent the cascade of other health issues that become magnified and compounded in edentulous individuals over time.
Become a Part of the Solution with DENTCA's 3D CAD/CAM Denture Solution.
To further empower dentists with digital denture capabilities requiring zero startup costs, DENTCA is extending the 222 On Us! Promotion through November 30, 2013 for all licensed U.S. dentists who have not previously used the DENTCA system. Doctors of Dentistry should take full advantage of this promotion and receive their first CAD/CAM-designed denture – including a 3D-printed try-in as well as the final denture – all at no cost by registering today at http://www.dentca.com with the promo code: IWANTDENTCA222. This promotion is set to expire on November 30, 2013. A valid dental license must be submitted by fax or e-mail to qualify after registration. Other restrictions apply. For complete terms and conditions, see http://www.dentca.com/promo/222onus or contact your DENTCA representative.
About DENTCA:
DENTCA, Inc. (Los Angeles, California), the pioneer of CAD/CAM Denture Technology, produces high-quality dentures through computer-aided design (CAD), computer-aided manufacturing (CAM), proprietary 3D modeling, and scalable 3D printing technology. After introducing game-changing technology to dentistry, DENTCA received the Pride Institute's Best-of-Class Technology Award in 2012 -- the first denture company in history to receive this coveted award. DENTCA's patented tray system is designed to save significant time by enabling doctors to capture the impression, VD and CR in the same patient visit in less than one hour of chair time. DENTCA provides high quality denture fabrication services to prosthodontists, general practice dentists, denturists, mobile dental networks, dental laboratories, government agencies, dental schools, and corporate health care networks with 100% accuracy and rapid turnaround times through its award-winning 3D CAD/CAM technology. With extensive patent protection, client relations, academic collaboration, and dedication to R&D, DENTCA is committed to advancing modern dentistry with state-of-the-art, ground-breaking digital denture technology with constant innovation.
DENTCA, Inc.
3608 Griffith Avenue
Los Angeles, CA 90011
Tel: (323) 232-7505 | 855-4DENTCA | 855 433 6822
Fax: (323) 232-7504
E-mail: info(at)dentca(dot)com
URL: http://www.dentca.com
FB: http://www.facebook.com/dentcausa