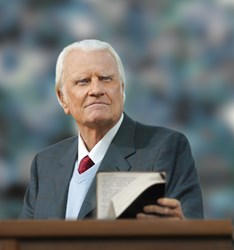 (PRWEB) October 30, 2013
For over sixty years, his message of hope and healing has filled stadiums and major venues all over the earth, and his warm, assuring voice has reached out to billions of individuals and families on every continent through radio and television. Now beloved evangelist Dr. Billy Graham is embarking on one of his most historic efforts, My Hope America, partnering with individuals, churches, and ministries like TBN to reach out to neighbors, communities, and the nation with the simple message of salvation through Jesus Christ.
On Dr. Graham's 95th birthday November 7, Trinity Broadcasting Network, America's most-watched faith channel, will host a very special thirty-minute broadcast of "My Hope America With Billy Graham," featuring impacting testimonies from notable people whose lives have been changed through faith in Christ, along with a powerful message from Dr. Graham.
"Billy Graham has been a dear friend and partner of this network for nearly forty years," said TBN Vice President Matthew Crouch. "We have featured live coverage of several of his historic gospel campaigns throughout the U.S., and his 'Billy Graham Classics' program continues to be a favorite of TBN viewers. We are honored to partner with Dr. Graham in this historic and life-changing broadcast of 'My Hope America.'"
In addition to TBN's November 7th program, the network's Hispanic affiliate network, Enlace, will carry a Spanish language broadcast of "My Hope America" November 7, 8, and 9. "We are encouraging our many TBN and Enlace viewers to partner with us and Dr. Graham by inviting neighbors, friends, and loved ones into their homes to share this powerful presentation of the gospel," said Mr. Crouch. "We are anticipating a great response from people all over the nation."
In anticipation of the "My Hope America" broadcast and Dr. Graham's birthday, on November 2nd (8 p.m. Pacific Time), TBN will host a special two-hour "Billy Graham 95th Birthday Special," featuring a look back at Dr. Graham's life and ministry, along with special birthday wishes from his family and friends.
"Like many other Americans, we consider Billy Graham a tremendous gift to our nation and the world," said Mr. Crouch. "November is an important month for this man of God, and TBN looks forward to the opportunity to partner with him in the 'My Hope' outreach, as well as to celebrate his many years of service in God's kingdom."
You can view "My Hope America With Billy Graham" on TBN November 7th at 5 p.m. Pacific Time (7 p.m. Central, 8 p.m. Eastern). To view the Spanish-language version of the program tune in to TBN's Enlace Hispanic network November 7th (8 p.m. Pacific), November 8th (8 p.m. Pacific), or November 9th (5 p.m. and 6:30 p.m. Pacific).
For more information on the 26 global members of the Trinity Broadcasting Family of Networks, visit us online at http://www.tbn.org.