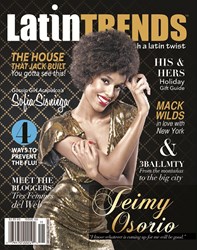 New York, NY (PRWEB) October 31, 2013
Cover girl, Jeimy Osorio, has been sparking interest since her breakout role in the hit telenovela, Porque el Amor Manda. This exclusive interview with the gorgeous Ms. Osorio covers everything from being the only Afro Latina currently playing on a telenovela to her experience as the only Boricua among an all-Mexican cast. LatinTRENDS even asked Osorio about viscous rumors of her alleged bad behavior on set. But soft-spoken Jeimy Osorio is every bit as lovely in person as her character Jessica Reyes de Cardenas in Porque el Amor Manda —all sugar and spice and everything nice.
This November, LatinTRENDS also delivers in-depth interviews with two musical sensations; New York's own, Mack Wilds—actor turned singer— and 3BALLMTY all the way from the mountains of Monterrey. Find out what inspires these artists and how they stay connected to their roots.
Check out His and Hers Holiday Gift Guide in this month's issue! LatinTRENDS knows what the ladies want for the holidays. The magazine also found really cool gifts for the fellas too. LatinTRENDS thinks of everything, including holiday gifts for furry friends. So take a look at articles and advice this season and be sure to please everyone en la familia!
LatinTRENDS will host The Twelfth Annual Latino Trendsetter Awards & Scholarship Gala. This milestone event will take place on Tuesday, December 3rd, 2013 in NYC Juan Guillen, LatinTRENDS founder & CEO states "The Latino Trendsetter Award recipients proudly represent 52 million US Hispanics. They have each developed the mindset and characteristics of a leader. They are influential heads of households and play a major role influencing what their children and parents purchase. They maintain high standards in actions and deeds. They are accomplished people on the move. They are Trendsetters who never stop! As acculturated Latinos, they are influencing three generations; theirs, their children and their parents. They are influencing mainstream society while inspiring our youth, who will become tomorrow's trendsetters." For more information visit: http://www.latinotrendsetter.com.
Don't forget to download the LatinTRENDS app on all iPhones, iPads at Apple Newsstand: https://itunes.apple.com/us/app/latintrends-pop-culture-latin/id580536465?mt=8.
For Androids via Pocketmags.com: http://www.pocketmags.com/viewmagazine.aspx?titleid=1475&title=Latin+Trends.
For more information, please contact Maria Luna at (212) 852-6164 or via email at mluna(at)latintrends(dot)com.