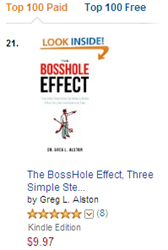 The BossHole Effect is the powerful capacity of a bad boss to suck the joy, energy, enthusiasm and greatness out of an organization.
Charlotte, NC (PRWEB) November 01, 2013
The Global Challenge for Managers
A worker who is not a leader in his/her field or performing in the top twenty percent of their profession risks becoming invisible, irrelevant and unemployed over the next 10 years. Population growth rates in developing countries exceed growth in the United States. This trend ensures that there will soon be more highly trained English speaking college graduates outside of the USA than within. It also means that US workers will need to manage their careers differently than they did in the past.
The Only Question That Matters
The key question each worker must ask is, "What do I do that cannot be outsourced to India or China? Most US citizens are behaving like a frog in a pot of boiling water refusing to acknowledge that the situation is heating up and becoming dangerous. Many companies have no strategy to compete against this global tide. The reality is, most employers can not guarantee that they will even be in business in the next ten years.
The BossHole Effect
Complacent businesses led by ignorant managers are putting their future at risk because they simply are not paying attention. The BossHole Effect explains the devastating impact that bad bosses are exerting on our economy and provides practical strategies for immediately improving the operation of any business. Employees working for a bad boss, must read this book. Managers currently acting like a Bosshole, must learn how to create a business that can thrive in the global economy.
The Difficult Truth
The essential business skill that every US worker will need to develop is the ability to create value for their customer. If a person or business is not adding value to the marketplace, they will be replaced by a less expensive alternative.
Most governments are in debt. There is no easy fix to the issue of raising tax revenue. Therefore, the pressure on cost control is bound to increase. And if a worker is not better than most of their competition, they may be cost controlled right out of a job.
Dr. Greg L. Alston is a Bestselling Author, Educator, Pharmacist and Entrepreneur with 35 years experience in the retail drug industry. Currently he is a college Professor, Assistant Dean and the President and only active member of the American Society of Supervisory Hubris Limitation and Eradication (ASSHLE). He has authored numerous journal articles, spoken at conferences around the country, written textbooks on Management and appeared in hundreds of videos. He is the father of Relative Value Theory and has taught Value Creation Strategy to hundreds of graduate students. His new book, The BossHole Effect, Three Simple Steps Anyone Can Follow to Become A Great Boss and Lead A Successful Team, is available in Paperback and Kindle Versions. For more information you can visit his Blog, YouTube Channel, or follow him on Twitter