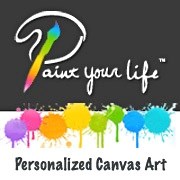 McKinney, TX (PRWEB) November 01, 2013
Paint Your Life, a leading producer of personalized canvas art, is pleased to announce a special deal in preparation of the upcoming holiday season. Buyers who head to the http://www.PaintYourLife.com store will receive a special 20 % off deal on the custom art piece of their choice. This is a great opportunity to pick up one of the many new custom art editing styles that have been introduced, whether it is a home décor piece to celebrate the upcoming season or an early Christmas present for a special loved one.
Buyers just need to enter Thanksgiving13 at checkout for access to this great offer. This code will give them access to a number of great deals, such as the full range of photo to canvas editing styles at http://www.PopArtPros.com, which include Classic Pop Art, Aquarelle, Vintage, Comic Drawing, and Magazine. Additionally, a number of great painting and art styles are available to buyers, including oil portraits, custom charcoal drawings, pencil drawings, and acrylic paintings. Needless to say, there is something available for everybody, regardless of his or her own personal art style.
Thanksgiving is a great time to get ready for the upcoming Christmas season. Many buyers take this opportunity to have Paint Your Life develop a custom art piece that they can use to decorate their home for the season. Buyers can head to http://www.CanvasGurus.com and browse the many photo to canvas options available to them. This years' Christmas card family photo can be a beautiful choice when transferred to canvas, and will be a keepsake item for years and years to come.
Buyers should remember that the skilled artists at PaintYourLife are able to edit a photograph, whether it is for transfer onto a canvas or a custom art piece, in any way that they wish. This can be a great way to give a favorite photo a little holiday flair. All they have to do is include this information in the comments section as they order their custom piece from PaintYourLife. The customer always has the final say before their custom art piece is ready for shipping, so they do not have to worry that their art will not turn out the way that they want.
Every customer also has the opportunity to consult with a PaintYourLife representative to determine whether a photograph is capable of being transformed into a custom art piece. This can be a great opportunity for individuals to have a custom photo to canvas print made of a favorite family picture. PaintYourLife is even capable of performing restorations, even on pictures that are a little faded or damaged. These consultations are always free. The Thanksgiving13 code is good up until Thanksgiving for this amazing 20 % off deal, so buyers should not pass up their opportunity for a great piece of art that will last for years and years to come.
About PaintYourLife
Since 2006 PaintYourLife has been the leading provider of online art products, and features one of the world's largest selections of canvas and art products. All products are designed by a team of professional graphic designers, and each product is created with the utmost quality and attention to detail. The site, which is a leader in the online art industry, has seen tremendous success because of customer and word-of-mouth referrals, and continuously works to develop innovative new ways to cater to an extensive range of needs.