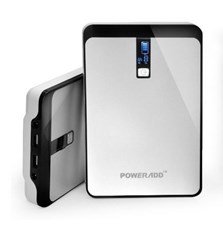 (PRWEB) October 31, 2013
Recently, Poweradd has released its new product, an ultra high capacity portable external battery, Poweradd Pilot Pro, to its its global customers, and launched a portable external battery promotion. The discounts being provided are for as much as 67% off.
Mobile devices have been very popular in the global market, and there are a lot of mobile device users, especially business people, who need anytime-access to dependable power to keep their devices running, so that they can have access to the best information available. Poweradd™ Pilot Pro is specially designed for these people.
According to the sales manager of the company, Poweradd™ Pilot Pro has a monster capacity of 32000mAh, which is perfect for business people This portable external battery is compatible with most smartphones, laptops and notebooks on the market (no matter Acer, Asus, Dell, HP, Lenovo, Sony, Toshiba, or popular brands)
With the adjustable voltages (5V/9V/12V/16V/19V/20V), Poweradd Pilot Pro can meet various needs for different device models. It has built-in LED indicators that can identify power capacity for you. The company strongly recommends this new battery product to its clients worldwide.
"We are excited to introduce our high capacity portable external battery, Pilot Pro, to the global clients. As a leading consumer electronics company, we are constantly conducting R&D in portable external battery in order to uphold our customers' duty of business obligations. There are a few high capacity portable external batteries above 30000mAh on the market, and we take pride in creating such a high quality product at an affordable price." The sales manager states.
About Poweradd
Poweradd is running its business worldwide. The company has a group of professionals with strong engineering backgrounds and manufacturing experiences. They aim to create a variety of flexible portable external battery solutions to meet the various needs of customers worldwide. Strict quality control, reasonable prices and sincere customer service have made them one of the leading brands worldwide.
Click here for more details:
http://www.amazon.com/Poweradd-trade-Pilot-Pro-Multi-Voltage/dp/B00DN0KBXU