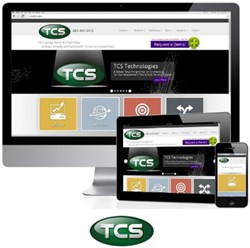 Our goal was ... to demonstrate our strength in being the complete technology solution for the independent tire and auto service dealer.
Cookeville, TN (PRWEB) October 31, 2013
Software and internet marketing provider in the tire and auto service industry, TCS, is announcing the launch of a newly designed website for their firm: tcstire.com. This update includes all new content, new features, and a responsive design to meet the needs of both desktop and mobile devices.
The new site highlights the company's many software, website, internet marketing, and data options for tire and auto repair shops, wholesalers, and retreaders. According to the company, the update to their website reflects their approach to customer service by accommodating the viewer and exceeding expectations. "We are excited about the site redesign and new functionality on tcstire.com. We feel it does a much better job of providing website visitors a detailed overview of our expertise across a wide range of technology. Our goal was to showcase each of our product suites, and how they are top-performers, but more importantly to demonstrate our strength in being the complete technology solution for the independent tire and auto service dealer," reported Barry Reese, TCS President.
The website presents a responsive design, which allows viewers to easily search and navigate the site on any digital device, as the display changes to be optimized to the user's device. TCS always strives to be on top of the latest advances in web innovation, and with the launch of http://www.tcstire.com they have demonstrated the ability to provide a completely responsive solution. It is widely accepted that by 2014 mobile search will surpass desktop search. Within this new website, every picture, slideshow, and video has been specially designed and coded to expand and contract according to the size of the device. Additionally, the site's navigation utilizes an off-canvas menu, which makes it easy to browse the website in the palm of your hand.
"Tire and auto service dealers are no different than the general population, as more and more are accessing websites from their phones and mobile devices. We desired to design a website to serve all platforms," stated Kenny Pratt, TCS Chief Technology Officer. "TCS' responsive website design provides cross browser and multiple device compatibility that is rapidly becoming the industry standard. Although more time consuming to design and code, a responsive website provides the flexibility that is essential for reaching today's audience, no matter what platform they are using. We want to stay at the forefront of mobile technology for all technology developed for our dealers, so our website was no different. Now we can best service the dealer seeking technology advice while away from their desktop. We are really pleased with the new website and look forward to getting feedback from our customers," he added.
Visitors to the website can find extensive product information to help dealers understand TCS' complete range of technology solutions. Customer testimonials and case studies, demo and support forms, a news center, career opportunities, and much more can be found on the new site.
The company encourages visitors of their new site to review the site, then provide feedback on their experience at http://www.tcstire.com/feedback.
About TCS Technologies
TCS Technologies, a Microsoft Certified Partner, develops and markets both off-the-shelf and custom tire software solutions, web applications, ecommerce platforms, and support and consulting services to tire and automotive service companies across the US and Canada. As the industry's only full-service technology provider, TCS has built a product base, which continues to prove itself as a revenue increasing, business streamlining asset to any size tire or automotive service business. TCS has tools unmatched in the industry and customization within each of its products to cater to the way tire dealers and retreaders do business. TCS' home office is located outside Nashville, TN with a second location in Salt Lake City, UT.