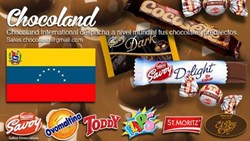 Within just two weeks from it's launch, the brand's Smart Store hit a 6.5% conversion of 'take actions' inside the video.
Austin, TX (PRWEB) October 31, 2013
Cinsay, the leader in video commerce technology, has added social media ads and promotions to its list of options and promotional packages for small and medium sized businesses (SMBs). The syndicatable and transactional video, known as the Cinsay Smart Store™, is easily embedded into any web site, social media networks, fan pages, timelines and even tabs in Facebook. The additional audience reach through social network promoted posts has shown to greatly increase views, shares, comments and transactions within the video platform while performing in Facebook feeds.
Chocoland International is one recent merchant that has greatly benefitted from the social media campaigns stacked on top of the Smart Store technology. Fernando Rodriguez, President of Chocoland International described his new business venture and the initial challenges they met selling into North America, "We always wanted to promote Venezuelan chocolates around the world. We have great local producers like Chocolates El Rey making high quality chocolates such Icoa, a brand awarded by the International Chocolate Awards in 2012-2013 as the best white bar chocolate of the world, and multinationals like Nestlé producing distinctive chocolates in our region using Venezuelan cacao. We knew that we had great products to offer and a huge number of potential customers. However, we didn't know how to reach our target."
Enter the World's First Shareable video eCommerce Solution:
Rodriguez learned of Cinsay's new technology through other business connects and contacted the company to launch his chocolate startup. "Cinsay became our solution. We established Chocoland International and within days we reached and had sales from people in Portugal, USA, Canada, Spain, Italy, Germany, and many other countries. Since the video has e-commerce capabilities, we experience immediate interaction from viewers into customers. The Smart Store is extremely simple to manage and friendly to use for the consumers. Cinsay's Smart Store allowed us to knock on people's door; we didn't have to wait for them to knock on ours," he added.
Chocoland's launch and marketing campaign has resulted in a huge success. Even though the initial launch was in Spanish and targeted expats of Venezuela, the views and sales exceeded projections. The promotion was expanded by utilizing Facebook's powerful marketing tools and resulted in the Facebook boost reaching over 8,000 users and generated new likes and followers for the company's fan page. Within just two weeks from its launch, the brand's Smart Store hit a 6.5% conversion of 'take actions' inside the video. Traditional industry eCommerce conversions average 1.8% and lower. Cinsay's ability to incorporate video directly into the store allows for instant point of purchase for items and services without ever taking viewers outside the video.
"Social media has been challenging for many to crack in terms of selling products and services when compared to other advertising options," said Christian Briggs, founder and CEO of Cinsay. "Now that our merchants have the ability to simply include our platform into paid posts, the power to reach even more potential shoppers is exponentially huge and that's what we call social commerce. The Cinsay technology coupled with Facebook's boosted posts creates the most perfect solution for buyers and shoppers alike."
A Lower Cost eCommerce Solution with an Even Higher ROI
"The Cinsay family cares about Chocoland International's success as much as we do. They build a personal relationship with you and offer a number of e-marketing tools to help your business solidify its online presence. Our vision of promoting Venezuelan chocolates worldwide was only possible with Cinsay; no other e-commerce tool is as effective in the social networks as Cinsay's Smart Store," Rodriguez added. The company's previous video was only in Spanish, Rodriguez has also added an English promotional video as well to promote the brand even more.
To learn more about how Cinsay's compelling video eCommerce technology and how businesses can directly benefit immediately from combining the Smart Store with the power of social media, visit the Cinsay page for SMBs or call 855-879-2467.
About Cinsay:
Dallas-based Cinsay has created a next-generation e-commerce, viewer interactive, video-based platform for any size business. Cinsay's technology enables anyone to sell products, display printable coupons, capture donations, and generate leads all inside its patented Smart Store™ technology. Cinsay patents include: U.S. Patent Nos. 8,533,753 and 8,549,555 for interactive Internet-based video applications.
Forbes named Cinsay one of "America's Most Promising Companies" while eTail Conferences named Cinsay a "Rising Star" in innovation for 2012. Cinsay's eCommerce video-based platform can be used for any individual or business. For more information, please visit http://www.cinsay.com/.