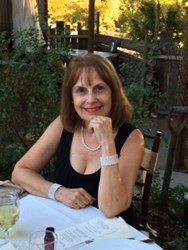 "Nobody has to live with fear.It can be eliminated with Hypnotherapy," Renee Sakr, Certified Clinical Hypnotherapist.Certified Hypnotherapy Trainer.
Newport Beach, CA (PRWEB) October 31, 2013
Tina started doing Gymnastics at the young age of eight. She enjoyed doing it and she advanced her gymnastic skills slowly but maturely. About a year ago, she developed a terrifying fear of falling (FOF).
Her practice and improvement became unstable. Sometimes she did well, and other times she was paralyzed by her fear. There were days when Tina would not allow her fear to get the best of her. But on other days the fear was too much to handle and it steadily got worse the longer it went ignored.
Tina lives in Jacksonville, Florida with her mom, Betty. Saddened to see her daughter in that condition, Betty desperately searched for help. In her search she came upon Goldlite Hypnosis Institute.
She called and after receiving some good information she decided to make an appointment for a consultation. Renee Sakr, the Certified Clinical Hypnotherapist, spoke with the family and was unable at the time to see her immediately and referred her to another hypnotherapist. After a few sessions, Tina's performance only slightly improved, and then began to slide again. Betty got back into contact with Renee desperate for a solution. Renee suggested Hypnoanalysis, "a type of regression therapy that takes people back in time to find the root cause of the problem." Betty requested and approved that procedure. During the session Tina was regressed back to childhood and kept on being regressed further backward until the root cause of the problem was found. The cause of the fear was a traumatic accident that happened at the age of four. While Tina was horsing around, she fell and hit her head on a sharp object and it began to bleed profusely. She was rushed to the emergency, where they were able to stop the bleeding. The healing process took a few months, but thankfully her physical injuries completely healed. Unfortunately Tina was left with emotional scarring, and from then on she bottled that fear inside herself.
For years to come that problem was buried inside her without causing any issues. But later on, an event happened that triggered that memory and the reaction to the paralyzing fear took over.
In addition to the regression session, Renee and Tina worked on fear, visualization, positive thinking and self-esteem. Renee was able to access a deep part of Tina's subconscious mind and eliminate that profoundly rooted fear that had been haunting Tina for such a long time.
Tina's success was attributed to Renee's ability to find the root cause of the problem in one session, as well as her 18 years experience of practicing with clients and training students in the field of Hypnotherapy.
Once her therapy was over, Tina was able to perform all her gymnastic routines with great success and ease.