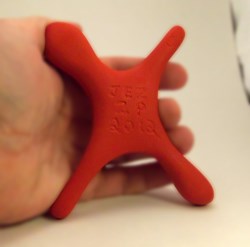 I picked up your massage tool off my desk this morning (not the rolling ball but the other one) and have been working on the soreness here and there today.Wouldn't you know it, it is feeling better with more range of motion already!
Phoenix, AZ (PRWEB) November 01, 2013
Zing Partners LLC received notice from the US Patent and Trademark Office that the design patent for the Zippy Soother has been accepted as filed. The patent application for the Zippy Soother device is the second patent filing for Zing Partners LLC and the first to be approved. Zing Partners LLC is also waiting for the approval of the non-provisional patent for the Zippy Rolling Ball Therapy golf ball massage tool.
The Zippy Soother is a unique device intended to extend the range and ability of professional therapists and personal users to provide soothing access to a wide variety of soft tissue issues such as sprains, strains, knots, adhesions, and every day aches and pains. The device has no less than 25 unique surfaces/edges suitable for work in deep muscle, small muscle, tendons, fascia, and more. Zing Partners LLC reports that in practical use the device offers at least one surface for initial touch will have minimal pain feedback/discomfort followed by use of the other integrated therapeutic surfaces to pinpoint and work directly with the injured area for relief. Each Zippy Soother is individually hand cast and hand finished and Zing Partners has announced a limited edition of ten devices to be offered to professional licensed therapists at 50% of retail.
Durable, easy to use Zippy devices extend the ability of professional therapists and personal users to access deep, hard to reach areas, pressure point therapy release spots, knots, and adhesions for clients during therapy sessions. Handy, compact Zippy devices are small enough to take anywhere, practical enough to use everwhere. Check out http://www.zippymassage.com.
Zippy devices are thoroughly work tested and evaluated by trainer, coach, and sports therapist, Britton Brown. He began field testing prototypes in December, 2011 and has influenced the design of all Zippy products. Britton uses the full line of production devices (as well as custom built prototypes of future Zippy products) on a daily basis in his practice with a wide range of clients who rely on him for peak performance and quick recovery.
Zippy Rolling Ball Therapy massage devices are available on Amazon, search for Zippy Rolling Ball Therapy.
View our video http://youtu.be/Wkc61AfrhhQ. Visit Zippy RBT – Rolling Ball Therapy on Facebook. Follow @ZippyRBT on Twitter. Zippy Rolling Ball Therapy #ilovemyzippy