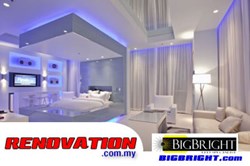 Members of Renovation.com.my can now browse or search through the directory for the most suitable interior designer to help them with renovation or other construction needs.
Kuala Lumpur, Malaysia (PRWEB) October 31, 2013
Renovation.com.my has been the main avenue of information pertaining to interior design and home renovation among Malaysians for many years since it was launched. Today, it is the most preferred choice that provides information, resources, tips and advice and other related areas to Malaysians looking to build and design better and more harmonious living spaces.
To continue offering the best and most relevant services to Malaysians, Renovation.com.my is continuously expanding and offering better services all the time. There is a very comprehensive and reliable source of information in terms of contacts and services available around Malaysia. Members can find contact information of contractors for all types of renovation needs while they can provide feedback, share thoughts and even review them in the renovation forum.
On top of that, products and materials used in renovation are reviewed and introduced in this portal as well. The launch of the Malaysia Renovation and Interior Design Directory is part of the effort in being the best and most relevant renovation portal in the Malaysian market.
This directory will add to the current offering of other directories which will mainly cover a comprehensive and informative list of interior designers in Malaysia.
Members of Renovation.com.my can now browse or search through the directory for the most suitable interior designer in Malaysia to help them with renovation or other construction needs. This directory will provide complete information like contact information, directions and services offered. Apart from that, Malaysian interior designers who would like to have their contacts listed here can do so by registering and submitting their particulars.
There will be several types of guides included in the new segment of Renovation.com.my which includes more renovation resources that can help those in need. This will cover issues like flooring and furniture where members can find out about the best type of flooring used in different spaces and locations. On top of that, they can find out about the most suitable types of furniture used in the respective spaces in terms of design and function.
An interior design guide is now available for home owners who would like to design their own space without having to engage a professional Malaysia renovation contractor. There are resources on design, color schemes, the best type of curtains as well as lighting, among others. Renovation for business owners of shops and offices are provided in a specially-dedicated segment in Malaysia Renovation portal as well.
One of the most prominent segments of the launch is the lighting guide for interior design in Malaysia. This is a segment which will truly be relevant and useful for designers and home owners. There are many types of lighting and modules that can be used for design and function. LED (Light Emitting Diode) lighting is the current and most suitable lighting used in all types of spaces, ranging from corporate offices to factories and into homes.
The use of LED is very beneficial mainly because this technology is very cost effective. By using LED, home owners now can enjoy better lighting in many ways. They can be used solely for lighting or for design areas with flicker-free and constant illumination. LED lighting do not emit as much heat as conventional light bulbs which means that electricity consumption is kept at its minimal. As there is lesser heat emitted, the use of cooling systems like air-conditioning will be greatly reduced which will then ensure that utility bills are reduced as well. In fact, it is known that using LED lighting can save up to 50% of electricity bills for homeowners. All these information can be obtained in the LED Lighting Guide section of Renovation.com.my.